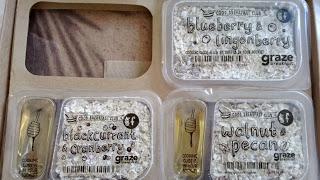 (I over-excitedly ate one of them before I took a picture - whoops)
I'm pretty sure I've sung my praises about Graze boxes a few times already. I've been ordering their snack boxes for a few years now, but now they've branched out into breakfasts and kids snacks.
I was very excited about this as having breakfast on top of my regular snack boxes delivered makes life with a three month old just a little bit easier. But I was also a bit apprehensive as I've tried porridge before and I wasn't a fan, however the first box is free so I had nothing to lose. The portions look tiny and I wasn't really convinced it was going to fill me up - if I even liked it - but I added a punnet and a half of milk and microwaved for two minutes as the booklet told me. The flavours these porridge's come in are all really lovely and not at all boring. My personal favorite so far is the apple and cinnamon - amazing. And also surprisingly very filling, so the breakfast club gets a big tick from me!
Wanna try Graze for free?
https://www.graze.com/uk/p/KIMBER7VU