Grandma Sylvia's Salt Butter Cookies. That's quite an odd name for a cookie isn't it?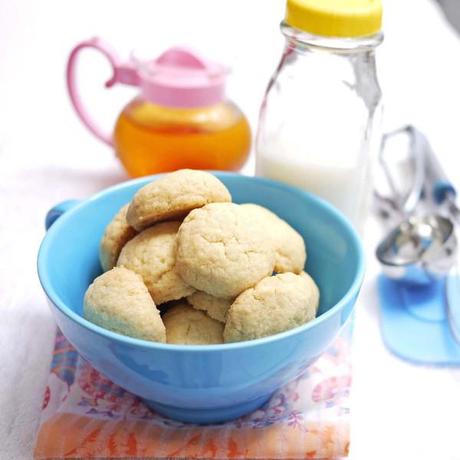 But nonetheless, it caught my attention all right.
 I really like it when a name gets attached to a recipe. Take Mrs Milman for instance. She makes pretty good chocolate ganache frosting. 
I am kinda hoping Grandma Sylvia would work her magic as well. She seems to know her stuff, cause she had the word "salt" in her butter cookies (We don't even need to go on and on again about how i love salt in my desserts). By using salted butter, i think Grandma Sylvia and i might just make the best of friends!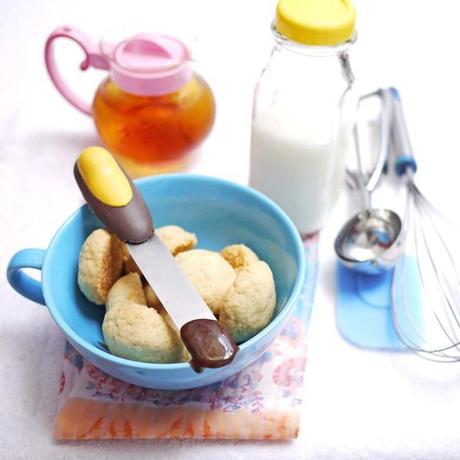 Besides the salt, these cookies also sandwich a chocolate filling.  While the cookies were perfectly crumbly, tender and deliciously buttery (i think this might just be my to- go butter cookie recipe now), i am not too sure about the filling. The filling was a bit on the runny side for me. It runs down the sides of the cookie, and make messy globs where it lands. That is even after i refrigerated it for a bit. I guess i should have added more confectioner's sugar to get it to set.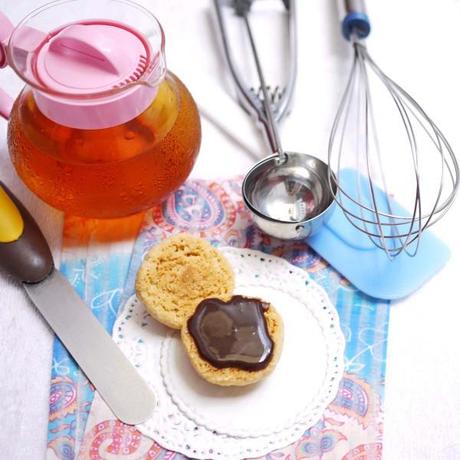 But I am not running away from this runny frostings. I went forward and spread it to one side of the cookie anyway. But instead of generously piling them on like i always do, i had to be quite strategic about it. A mini blob on each cookie. Nothing too much as it will spill over the sides of the cookies and make quite the mess.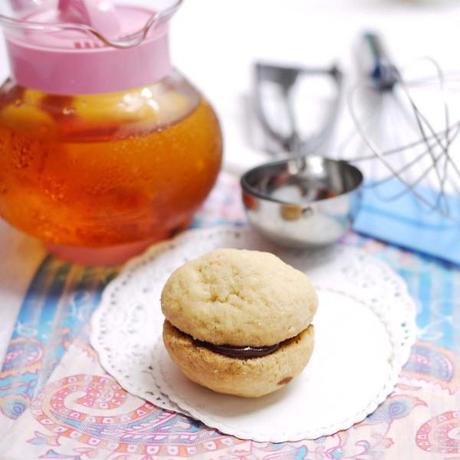 Once you are done with that one, make a couple more strategic blobs,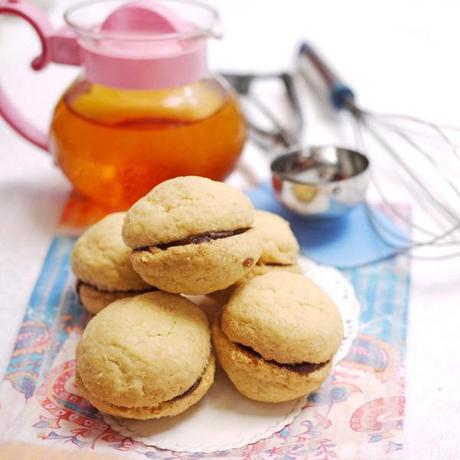 to get more cookies.
Don't forget to bring them to work. They would make you popular person of today!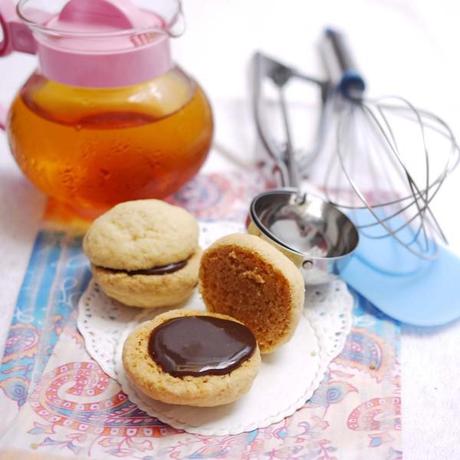 Grandma Sylvia's Salt Butter Cookies
Taken from America's Test Kitchen's Holiday Cookies
Cookies
2 sticks salted butter, softened 2/3 cup granulated sugar 2 large egg yolks
1 tsp. vanilla2
1 tsp. whiskey (I omitted this) 1/4 cups AP flour  
Filling:
1 oz. unsweetened chocolate, chopped 1/4 cup water 2 cups confectioners sugar   Preheat oven to 350. Adjust rack to middle position. Line baking sheet with parchment paper. 1. In the bowl of your electric mixer, beat butter and granulated sugar together til fluffy, about 2 minutes. 2. Reduce speed and add the yolk and beat til combined. 3. Add the vanilla and whiskey (if using) 4. Sift in flour and beat till just combined. 5. Shape the dough into 3/4″ balls (I used the smallest cookie scoop i had). Space half the balls 1″ apart on baking sheet. 6. Bake til lightly browned around edges, 10 to 12 minutes. 7. Cool cookies on sheet 2 minutes, then transfer to wire rack to cool completely.  
Filling:
  1. Combine chocolate and water in a small saucepan and stir over low heat till the chocolate melts. 2. Off the heat, whisk in confectioners sugar til smooth. 3. Spread filling (I just dropped a blob in the middle) onto one cookie and top with another to make sandwich. 4. Let filling set til hardened.  ( I sent it to the refrigerator)