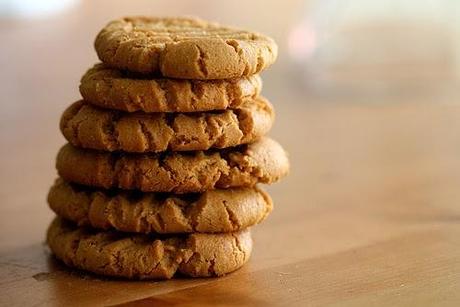 Ingredients:
1 cup butter or margarine1 cup peanut butter1 cup granulated sugar1 cup packed brown sugar2 eggs beaten1 teaspoon vanilla2 cups flour1 teaspoon salt 1 teaspoon baking soda
Procedure:
Cream butter and peanut butter until well blended. 
Add sugar, cream until light and pluffy.
Beat the eggs and vanilla in a separate bowl, soft together flour, salt and baking soda. Gradually add the mixture, blend well.
Roll dough into 1 inch balls, place balls 2 inches apart in large baking soda sheet.
Press with lines of fork to flatten.
Bake at 350 degrees F about 10 mins or until golden brown.