The most famous horse race in the sporting calendar is fast approaching. The Grand National is a race that is steeped in tradition and history, it is a race that brings together a nation as they try to pick a winner.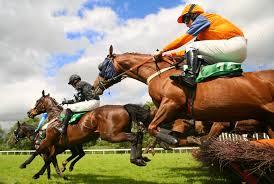 When the starter gives the orders to begin most of the country are huddled around televisions trying to work out which horse is their pick and hopefully screaming it home as it roars towards the finishing line! Whilst we all love the race, have watched it countless times and know how navigate our way through the Grand National Day Card race, there are some very interesting facts that we don't know about the most famous of horse races.
Here are some interesting Grand National facts that you can use to show off to your friends on race day.
1) The Grand National first became a handicap race in 1843. A handicap race is one in which the the horses must carry different weights on their backs, this makes the race more even and balanced.
2) Way back in 1928 only 2 horses completed the race! The wine that day was the massive outsider 'Tipperary Tim' who won at 100/1 – it has to be said that the huge pile up at the Canal Turn certainly helped both horse and jockey to victory.
3) In the 1956 Grand National, the horse 'Devon Loch' was leading comfortably at the last with victory beckoning, that was until he flopped on to his stomach for no reason, this left the race there for the taking as ESB swept past the felled horse. So remember, it doesn't matter if your horse is winning by a country mile because in the Grand National absolutely anything can happen!
There are so many weird and wonderful facts about the Grand National, the race never fails to surprise and that is why we love it! Do you have any fun facts about the Grand National? I would love to hear them, maybe you had a winner one day? All you need to do is pop down your stories in the comment section below this article, I can't wait to read them.
Good luck this year, I hope one of us is lucky enough to be collecting money from the bookmakers soon after the horses have crossed the finish line!