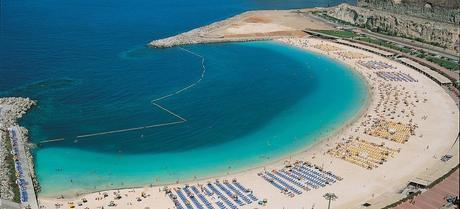 When it comes to cheap and cheerful holidays, Gran Canaria is the stand out island in the Mediterranean. With cute but budget hotels overlooking the beach, food stands everywhere you turn and the continuous heat of the sun right up until early evening, what more could you want from a holiday destination? Gran Canaria has been like this for a number of years, attracting millions of tourists every season with their all inclusive resorts and family orientated accommodation. However in the midst of all the scrambles for deck chairs and getting the last of the include drinks in before the bar closes, there's a wind of change making its way across Gran Canaria, and its of the luxury nature.
Working to a Budget
As you stretch your view across the sands of Meloneras, a dramatic line of beautiful, luxury hotels have slowly been appearing, with fantastic balconies looking out to sea. Each are 5 star, with their own huge pools, spas, world class restaurants and marble receptions to welcome their guests. Surrounding these hotels are designer boutiques and boulevards, modern yet traditional. From a new pair of shades or swimming trunks to diamonds, gold and silver, this is a place for couples to treat themselves as well as a hub for singletons.
If you're working to a budget, then the mega hotels in Meloneras will most likely be outside your price range during the high season. But if you're looking to take a break on the off season, lets say a week in the February half term, then these luxury resorts could easily be in your price range, bearing in mind they'll be deserted. Furthermore, for the best prices on flights during this time, be sure to book at http://www.cheapflights.co.uk/flights/Gran-Canaria-Island/for flights to Gran Canaria. Speaking of resorts, The Lopesan Baobab is another new kid on the block, and as soon as you see its expansive grounds it will instantly take your breath away!
The Lopesan Baobab
Situated around 300m from the beach, the Lopesan Baobab is a striking complex. Not only is it modern, but its also a feat of architecture unlike anything else in Gran Canaria. Much of the building is of African design, so it seamlessly fits in with the rest of the island, but its grandeur is particularly highlighted by the empty surrounding sand dunes. The only way to describe the entrance to this resort is 'giant', with a huge 50m roof stretching high above a raised walkway. Below the walkway are crocodiles and flamingos – models of course, but it's the little things that make all the difference.
Inside the grounds of this luxurious resort, you'll find nothing less than peace and tranquillity. The gardens are simply stunning, and there are even small areas of sand creating small islands; some even have their own waterfalls. With plenty of lounger space between the poolside and the bar, and a fantastic restaurant between you and the rest of the island, it's a shame that The Lopesan Baobab is so utterly flawless – because you'll find it hard to leave, limiting your experience of the rest of the island.