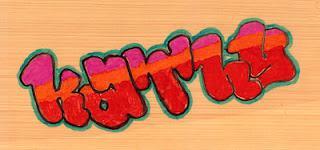 I wanted to introduce my afterschool kids to some very hip-looking lettering styles and new art supplies, so this was their project today.
1. Students were given a paper printout with bubble-style alphabet (about 2" high) that I found online, a sheet of acetate, and black Sharpie marker. They traced their name, overlapping the edges as shown.
2. The fun part? Bringing out the latest Sharpie markers – with brush tips! They are so great for coloring large and small areas. The kids loved them. They filled in their letters with one or more stripes as shown. An outer edge was added if desired (mine is blue).
3. I printed out a large wood grain image (thanks again internet!) on photo paper and taped it to the back. Next week I play to find a brick image for the background to really play up the graffiti look. Can't wait!