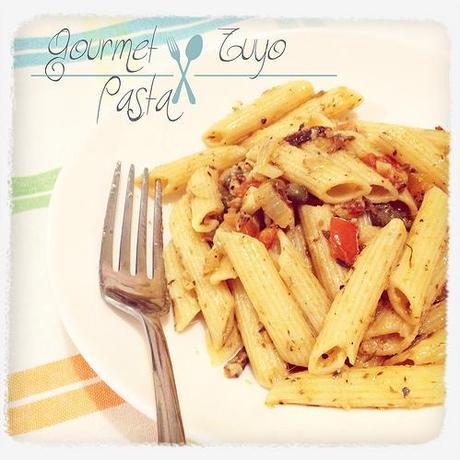 Tuyo or dried fish, is one of the staple breakfast of Filipinos. Paired with fried egg and served with fried rice and tomatoes+onion+wansuy combo on the side or vinegar if you prefer…ang sarrrrrap!!! If some people can eat pizza everyday, I can eat tuyo every single day and not get sawa. Just the aroma alone could make me hungry!
Anyway, our humble tuyo has leveled up in so many ways. Dati nakabalot lang sa dyaryo or banana leaf at binebenta sa palengke or nilalako, but now, it's sold in bottles already. Marinated in oil and some special or secret spices, it's been gourmetized! It's not just a so so tuyo anymore. Sosyal!
Given the makeover, it's not just for ulam anymore either. It's now on pizzas, pastas and even sandwiches!
Maybe you've tried it already, or maybe not. But nevertheless, I will share with you my super duper easy Tuyo Pasta that you can quickly prepare when you want a fast yet decent meal or for when you have some unexpected visitors to feed.
So, for the recipe:
1/4 cup olive oil
1 head of garlic, chopped
1 onion, chopped
5-6 pieces of tomatoes, chopped
2 tablespoons capers
Minced Lola's Gourmet tuyo, about 3 tablespoons
salt and pepper to taste
Sweet Basil leaves, chopped
Parmesan cheese or Kesong Puti
250 grams cooked penne or whichever pasta you prefer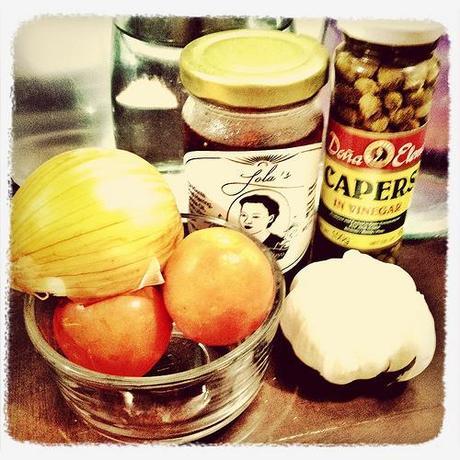 1. Sauté garlic and onion in olive oil.
2. Add tomatoes and cook until soft.
3. Add the rest of the ingredients except for the cheese and season with salt and pepper to taste.
4. Add cooked pasta and toss well.
5. Drizzle with olive oil or the oil from the bottled tuyo before serving and top with kesong puti or grated parmesan cheese.
6. Top with a 2 strips of tuyo a a few fresh basil leaves to garnish.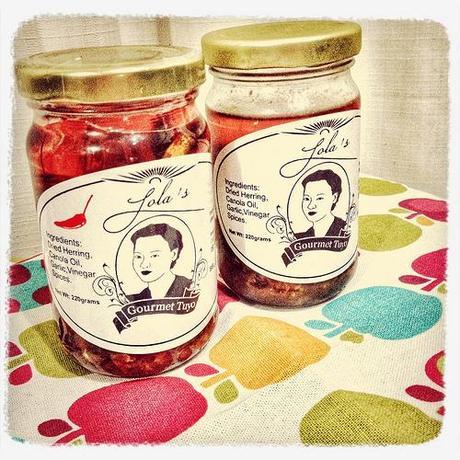 The star ingredient, Lola's Gourmet Tuyo, was Lola Carmen Valdes Nieto's special recipe.
Deboned fillets of dried herring that are simmered in garlic infused canola oil then cooked with Lola's special spices for boldness of flavors and a touch of vinegar for balance.
In this recipe I used the regular one. There are actually 2 variants: regular and spicy.
Try the spicy variant as ulam. Grabe, it's soooo good with just fried rice!
Thank you so much Lola's Tuyo! It's the bomb!
Lola's Gourmet Tuyo are available at the following stores/outlets:
LOUIE'S food to go- across Madonna and Child Hospital, Carmen.
MARGO'S Meats and More- Beside Corpus Christi Grade School, Macasandig.
PRIME MEAT- Limeketkai and X.Estates.
MONSTER KITHCEN- near Cathedral Church
DAHILAYAN FOREST PARK
PINES TGO Foods- Corrales Street
OMG Convenience Store- Monte Claro Bldg.. Pabayo Hayes St, Marfori Compound. (In front of ALBERTO'S Divisoria)
MONTEREY MEAT SHOP- Tomas Saco Street
CALTEX STARMART- Gusa highway, across Capistrano Complex
Read More