Goulash in Prague, re-invented in England…..
White fluffy dumplings with a rich, flavoursome beef stew.  The ultimate comfort food.  But this isn't how I've always felt about Czech cuisine. 
Everywhere I looked, there was goulash in Prague. Do these people not eat anything else? I thought. Do they never get bored of the same old stodgy dish? I wondered.  Menu boards all said the same thing: beef or pork goulash with sauerkraut (sour cabbage). Meat.  Cabbage.  Bread.  Typically Czechoslovakian.  And a little bit boring if I was being completely honest.
But those feelings didn't last long.  The truth is, you will never fully appreciate goulash and dumplings until you're faced with a stinking hangover, a lethal headache, sticky-eye syndrome (when your eyes just won't open properly) and a side dish of cold, wet weather thrown in to the mix.  Until then, Goulash in Prague just won't have the same appeal. 
Now when I face a rainy day, old feelings come flooding back, and all I can think about is getting my hands on some seriously fluffy dumplings or finding the ultimate goulash recipe (complete with chef). 
Finding Goulash in Prague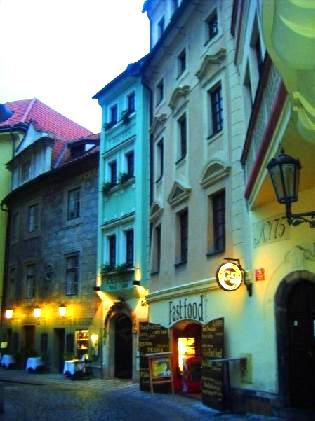 Oh believe me, you won't struggle.  This isn't like finding Hakarl (fermented shark) in Iceland.  It's not like finding chickens' feet in China.  Finding goulash in Prague is more like finding
The Daily Mirror
in a newsagent – it's a dead cert. 
Menu board after menu board will offer goulash and dumplings at rock bottom prices.  There's a lot of competition surrounding these soft, pillowy dumpling dishes, so restaurants and pubs will offer everything from low cost lunches to cheap set menus. 
Don't be put off if you don't fall head over heels after your first taste of goulash.  In Prague, every goulash dish is a different experience.  Some dishes are garnished with crisp, only-slightly-cooked onions, others have stewed so long that the onions are just soft remnants of the vegetable.  Some goulash recipes are rich and overwhelming, others are dominated by a salty flavour.  Some dumplings look small, thin and delicate on your plate, whereas others are oversized, irregular-shaped and cloud-like.
To me, beef stew in Czechoslovakia is salty, thick, heavy, calorific and sometimes a little too oily.  But it's surprising how addictive it can be after a few days of binging on vodka.  If you're visiting Prague, it's worth giving this hearty cuisine a whirl more than just once.
Fluffy Dumplings and Goulash Recipe
I'm not much of a domestic goddess, but every so often I do pull something out of the bag when left alone with a stove and some ingredients.  I haven't really perfected my goulash recipe just yet, and those fluffy dumplings are more like dense boulders in my kitchen – but I promise that's down to bad timing, lack of concentration and my inability to read instructions, not the recipe.
Many people say that the key ingredient in a goulash recipe is paprika, but I prefer subtle flavours so it's optional how much you want to add.
For the goulash, you'll need: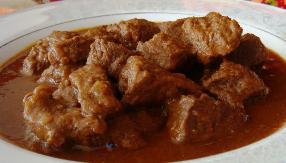 • ¼ cup of lard
• 1 ½ lbs beef / pork
• 1 potato
• 2 garlic cloves (minced)
• 1 chopped onion
• 1 teaspoon of paprika
• 1 teaspoon of marjoram
• 1 teaspoon of caraway seed
• Salt and pepper
• 2 ½ cups of water
For soft and fluffy dumplings, you'll need: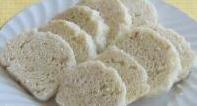 • ½ cup of milk
• 1 cup of flour
• 1 beaten egg
• 5 slices of white bread (remove crust and cut into small cubes)
• 1/8 teaspoon of baking powder
• 1 teaspoon of salt
 
Goulash recipe instructions:
1. Sauté onions and garlic in lard, then add the meat spices and sauté until brown.
2. Add water and cover the pot with a lid.
3. Allow to simmer for about 1 hour, or until the meat is tender.
4. For the dumplings, mix together beaten egg, milk, flour, baking powder and salt before adding bread cubes.
5. Mix well until the whole mixture is smooth.
6. Make two small loaves with the mixture and place into a pot of boiling water.
7. Cook the dumplings for 10 minutes on each side.
8. After removing dumplings from the pot, cut off both ends to release the steam.
9. Going back to the meat stew, add finely grated potato into the meat and simmer for another 5 minutes. 
10. Serve the goulash the dumplings sliced.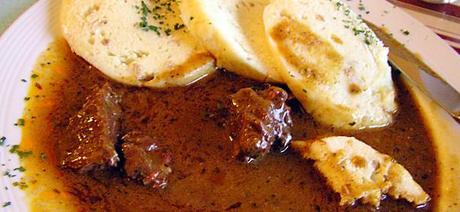 Enjoy My Goulash Recipe!
I hope you find comfort from my goulash recipe, and please let me know what you think! If you haven't tried goulash in Prague and you're trying to make this yourself for the very first time, please maintain humble expectations. 
Goulash doesn't make it on to my list of favourite dishes and it certainly isn't anything special – but every so often, it's all I can think about, and nothing is else is good enough.