One of my favorite dishes ever – soup! Don't agree? Think about it; it's a one pot meal and has protein, vegetables, whole grains, and maybe fruit. Oh, and the best part – the broth. I could drink cups of different kinds of flavored stocks and broth all day, mmm.
I recently came across an interesting fish soup recipe that I changed around a bit. It's Lent season, so I figured this would be the perfect time to share this simple, savory soup. Definitely a turnaround from the plain old lemon broiled fish.
Mediterranean Fish Soup
Ingredients
extra-virgin olive oil
1/2 Spanish onion, thinly sliced
2 medium ribs of celery, thinly sliced
1 large carrot, thinly sliced
4 cloves of garlic, minced
1/3 cup white wine*
2 tablespoons tomato paste
3 pinches saffron threads*
8 cups fish/shrimp stock*
1/4 teaspoon crushed red pepper flakes
1 orange, zest and juice
1 teaspoon thyme
1/2 teaspoon rosemary
1/2 teaspoon powdered ginger
1 fennel bulb, cut it half then slice thinly
1 can chopped tomatoes
1 pound firm white fish fillets*
1 pound shrimp, peeled and deveined, tails on
1 tablespoon parsley
Directions
In a soup pot, heat 2 tablespoons of olive oil over medium-low heat.
Add onion, celery, carrot, garlic and cook until tender, about 5 minutes.
Add white wine, tomato paste, saffron, stock, crushed red pepper, orange juice and zest, thyme, rosemary and ginger – bring to a simmer.
Cook uncovered for about 40 minutes, or until the liquid is reduced 1/3.
Add the fennel and tomatoes and cook until fennel is tender, about 15 minutes.
Season fish and shrimp with freshly ground pepper and cut the fish into 2 inch chunks.
Add the fish, shrimp and parsley to the broth and allow to cook, stirring gently only once until the fish is cooked through, about 5 minutes.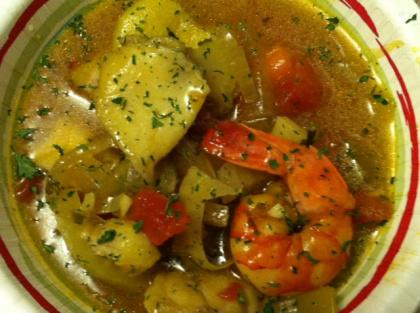 *OPTIONS:
*white wine – whenever you are cooking, ALWAYS use wine you would drink. Not only does it taste like crap but cooking wine is also loaded with sodium!
*Saffron – very expensive, use sparingly! May substitute turmeric.
*stocks – I always use no-salt added stock for soups, but I could not find salt-free fish stock so I eliminated any other added salt.
*firm white fish – halibut, snapper, grouper, or (my favorite) cod.
I'm not a big fan of fish in soup but this is one exception. It's so simple but so yummy!
Go make this on a cold evening – it will sure warm you up and keep you warm. Let me know what you think!!
#EatFreshCookBellissima