Hi there!  How have you been?
I recently have taken up hula-hooping and boy, is it hard.  But it is such a good ab and back workout that it is so worth all the practice!  After a month of practice, I can finally hula-hoop for longer than two minutes!  I know it sounds really short but I have been practicing for SO LONG.  I want to get so incredibly good that I can buy a light up hula-hoop!  I saw them at the Phish concert in Saratoga Springs last month and they looked SO COOL!  I am really excited to have abs and back muscles for my wedding next year =]  Sometime in a future blog post I will show you the workouts I have started doing to keep in shape for my wedding and for my back, arms and shoulders to look tone.  'Cause you know that's the only thing that's going to be showing… I have to beat the woman's curse of the flabby-arm syndrome before it eats away at me! Hahahaha!
Now, the food…
Blueberries!  July is blueberry month (I know I am a month late but whatever! haha) and what is better than blueberries for breakfast.  These antioxidant-loaded berries give you ultimate brain power.  Not only do blueberries help fight against Alzheimer's, but they may also help fight against high blood pressure/hypertension.  "Blueberries contain compounds known as anthocyanins, which are one type of flavonoid. Flavonoids, which are also found in dark chocolate, red wine and tea, are antioxidants and have been shown to reduce the risk of cardiovascular disease. But the new study showed that anthocyanins in blueberries may work better than other flavonoids at keeping blood pressure low."
My favorite way of eating blueberries: muffins!  Muffins are perfect for people on the go, but most store/bakery bought muffins are the size of your head and have over 400 calories and saturated fat = not good!  I have a recipe for blueberry muffins that will be perfect for on-the-go breakfasts or a filling early afternoon snack.  I have actually been known to heat it up for a few seconds in the microwave and eat one for dessert =D   These muffins are loaded with B vitamins, calcium, antioxidants, and heart-friendly monounsaturated fat.
INGREDIENTS
1 1/2 C. all-purpose flour
1 C. whole wheat flour
1 C. quick-cooking oats
1 C. granulated sugar OR 1/3 C. + 1 1/2 Tbs. Truvia Natural Sweetener
1 Tbs. baking powder
1 tsp. baking soda
1/4 tsp. sea salt
2 C. low-fat vanilla Greek yogurt
1/2 C. fat-free milk
3 Tbs. canola oil
2 tsp. vanilla extract
1 large organic cage-free egg, lightly beaten
1 1/2 – 2 C. fresh blueberries (I used blueberries that my fiancee and I picked from the local farm… DELISH!)
DIRECTIONS
Preheat oven to 400 degrees F.
Lightly coat a set of muffin tins with Pam baking spray or line them with cupcake liners.
Combine flours, oats, sugar/Truvia, baking powder, baking soda, and salt in a large bowl, stirring with a whisk.  Make a well in center of mixture.  Combine Greek yogurt, milk, oil, vanilla and egg, stirring with a whisk.  Add yogurt mixture to flour mixture; stir just until moist (do not over-mix).  Fold in blueberries.  Spoon 2 rounded tablespoons of batter into each muffin cup.
Bake at 400 for 15 minutes or until a toothpick stuck in the biggest muffin comes out clean.
Cool in pans for 10 minutes, then transfer to wire racks to let cool completely.
To store, wrap each individual one in plastic wrap and put in a zip-lock bag to have on-the-go muffins.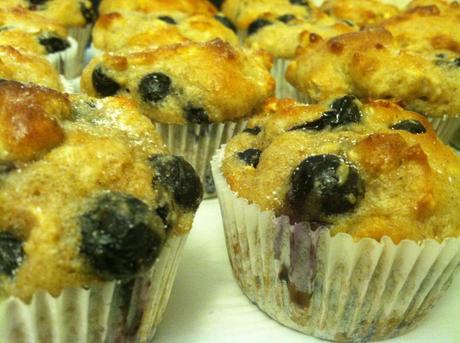 MMMMmmmmmmm……….
I am not really sure what I would do without muffins.  Sometimes they can be a bit time consuming but the outcome is so worth it.  I love having these for school – I can just grab one from the fridge, put it in my purse and leave the house!  To make them extra filling and if you want to add some fiber, try adding a few tablespoons of ground flaxseed… let me know how it tastes, I still have yet to try that!
I have really been getting into grilling this summer.  It's so much better than being over a hot stove.  In my next post, I will definitely have some grilling recipes and tricks!  P.S. Coal grilling tastes so much better without using lighter fluid and I'll let you know how in the next post!
#EatFreshCookBellissima