Surprise post!  HI!!!!!
I know that quote is really long but have you ever seen An Idiot Abroad or Ricky Gervais's Podcast with Karl Pilkington? Oh my gosh these shows are so freaking hilarious.  It's not really something I can explain, you just have to watch Karl Pilkington.  All I can say is that he really is an idiot abroad!
Anyway…
A couple months ago I went camping in Saratoga, NY for a weekend of Phish concerts.  It was really fun and camping was a great experience!  But knowing me and my sensitive stomach, I had to think way ahead for what food I am going to eat each day.  All we had access to was a charcoal grill and wood fire.  I figured I am not going to have many full meals and that I am just going to have to deal with eating mostly snacks all day.  You know, common sense snacks, nuts, fruit, mini cheese wedges… etc.  I really wanted to make some of my snacks instead of just buying everything; much healthier!
I had gone to the public market a few days before camping and bought some garlic scapes so I decided to make a garlic scape hummus.  Garlic scapes are so delicious.  They look weird but the garlic flavor is so tasty and not overbearing.  I first had them pickled last year but once I saw them at the market I started chopping them up and putting them in everything (they are delicious diced finely in salads, too!).
If you have a blender, this recipe is SO INCREDIBLY EASY!  And it lasts for weeks in the fridge!
GARLIC SCAPE HUMMUS
Ingredients
2 – 15.5oz cans Garbanzo beans, rinsed and drained
2 Tbs. EVOO
1/3 C. plain Greek yogurt
4 Tbs. Tahini
1/3 C. fresh lemon juice
1/2 tsp. onion powder
1/2 C. fresh garlic scapes, chopped
salt & pepper, to taste
Directions
In a blender, add the Garbanzo beans, EVOO, salt, pepper and blend until a paste just barely starts to form.
Add the Greek yogurt, Tahini, lemon juice and onion powder and blend until smooth, thick paste forms.  I like a thick hummus.  If the hummus is too thick for you, you can add more yogurt, Tahini, lemon juice or EVOO.  It's really up to you on which flavor you like the most!
Clean the hummus out of the blender, put in a bowl or Tupperware container and toss in the fresh garlic scapes.  Personally, I like the crunch of the little bite sized pieces of the fresh garlic scape but if you prefer less crunch, just add the garlic scapes to the blender and blend for a minute.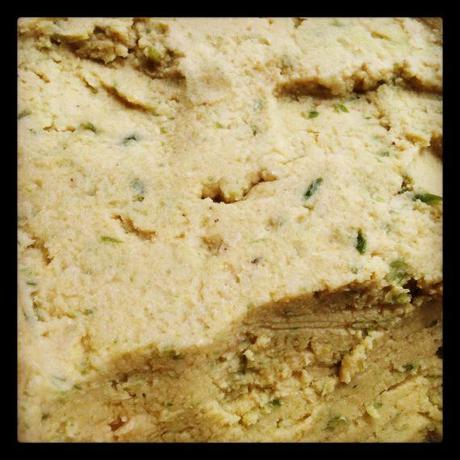 You can really eat this with anything.  Pita chips, celery, baby carrots (love!), or even smear this on a gigantic piece of crunchy lettuce and roll it up and take leafy snack on the go.
I hope you enjoy this as much as I did!  I was so surprised at how long this lasted in the fridge.  Literally more than a month old and it was still fresh and tasty!  So worth it… TRY IT! Let me know how yours came out!
#EatFreshCookBellissima