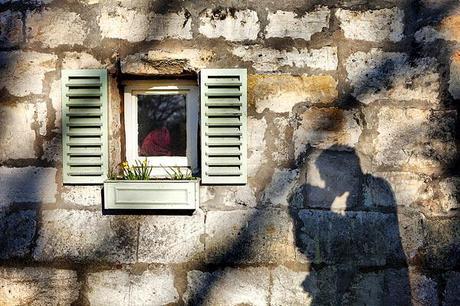 Hazlewood Castle is in the Domesday book, no less, and dates from as far back as 1086! It was the perfect wedding venue for Natsumi and Pete, who got married earlier in the spring. There are some really stunning images here, courtesy of Tierney Photography. I love the imagination of these first two images especially: the shadows are fab!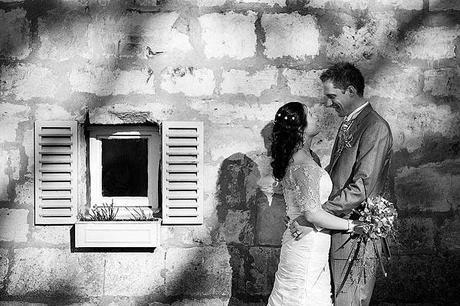 Pete and Natsumi's wedding day at Hazlewood Castle in Yorkshire has so many stunning elements to it I know you'll love this post. The baby girl is grinning as though she's already got the wedding bug! I love the check floor with the little bridesmaid dancing across, and the lighting in the images of the castle itself…. I hope you love this wedding as much as I do. Enjoy!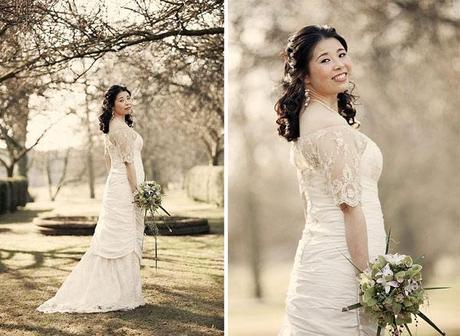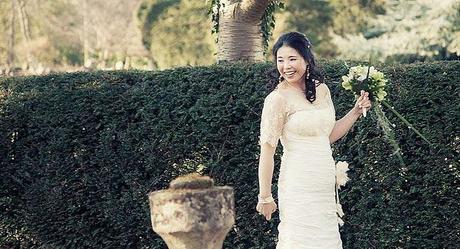 Most of all Natsumi – her smile, the way she wears her gorgeous wedding dress and her confidence posing for the photos – she's a real star and a beautiful bride.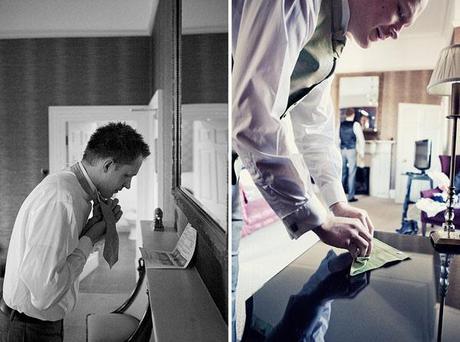 Pete gets ready – with the instruction manual to get his tie just right!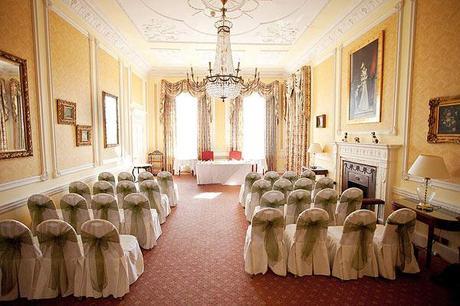 Inside Hazlewood Castle. For an 11th century building this isn't looking too bad! (It was restored in 1997 and has a very elegant English ambiance – this room is beautifully lit from the windows.)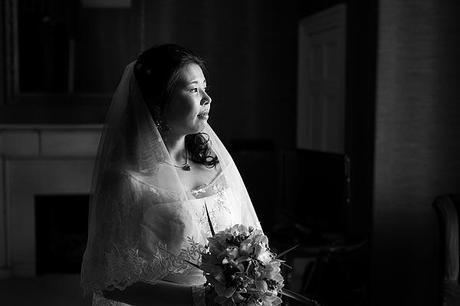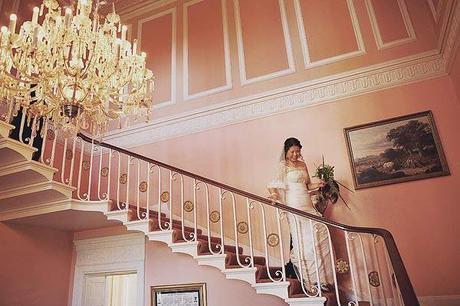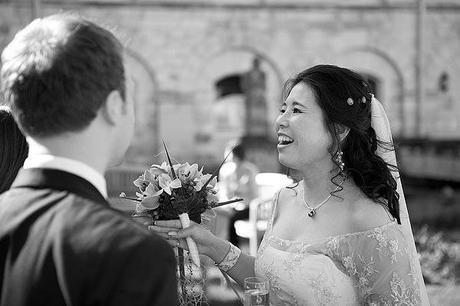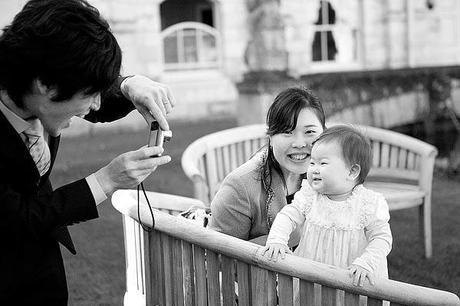 Isn't she just the most adorable little thing?!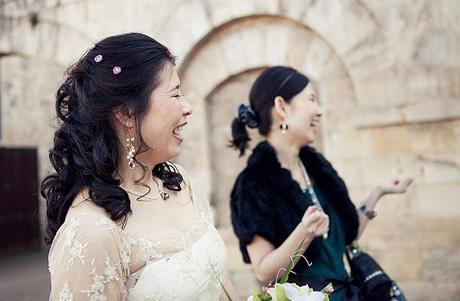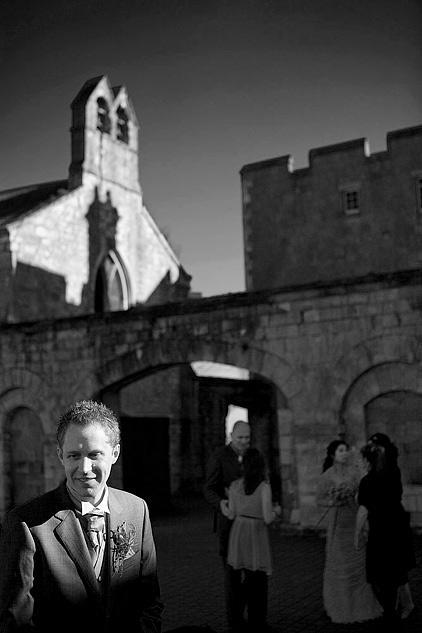 There's something lovely about this photo of Pete – his smile and the actual ray of sunshine just make a great image.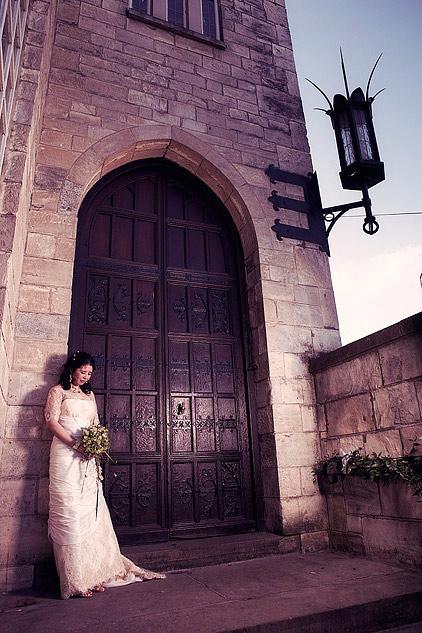 This photo of Natsumi by the stately castle door is so beautiful. It really captures the elegance of the historic castle wedding venue.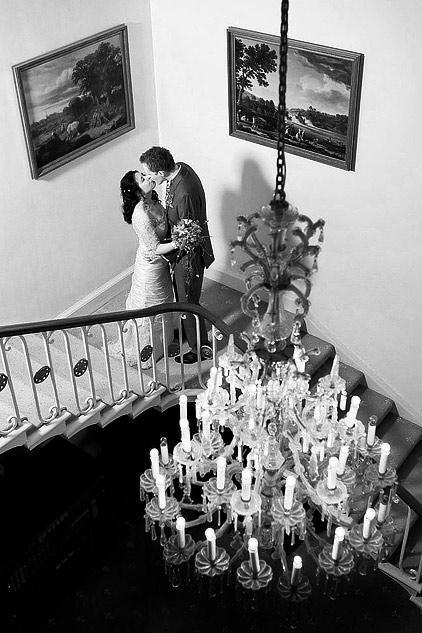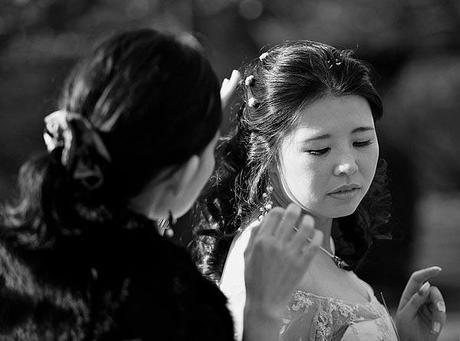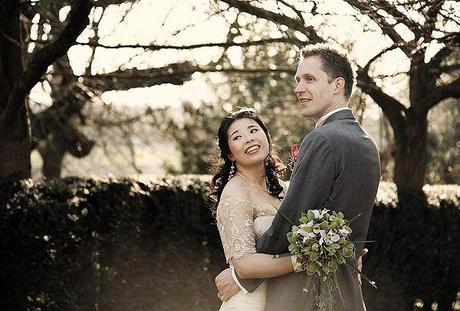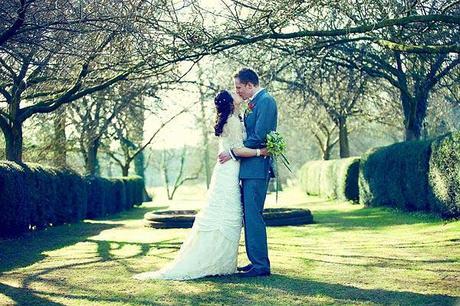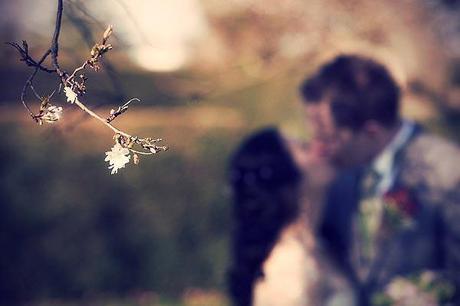 The little early blossoms capture the time of year… as does the bright, pale sunlight in the next photograph.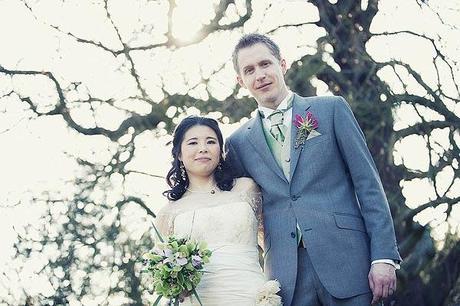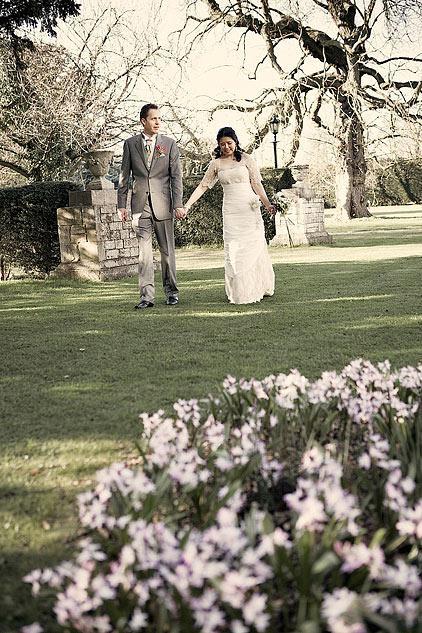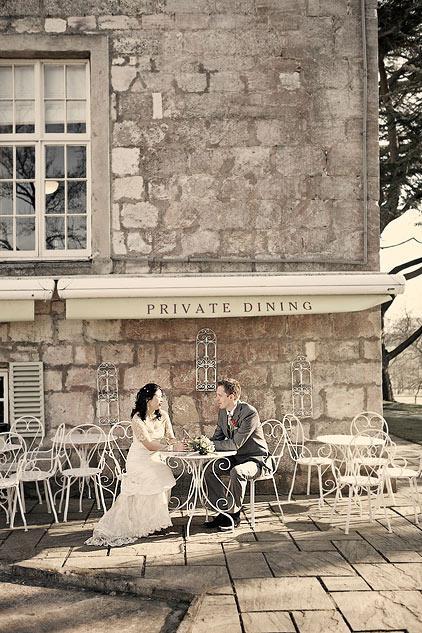 This could be a quiet cafe near the centre of Paris on a quiet summer morning. I love it.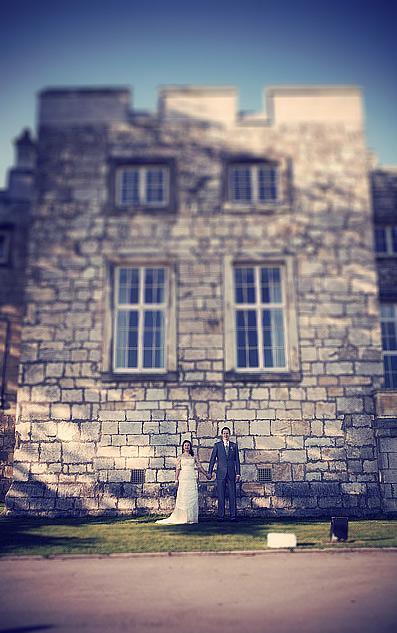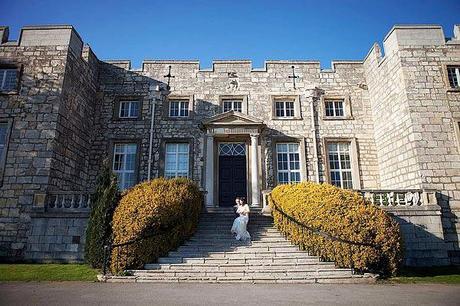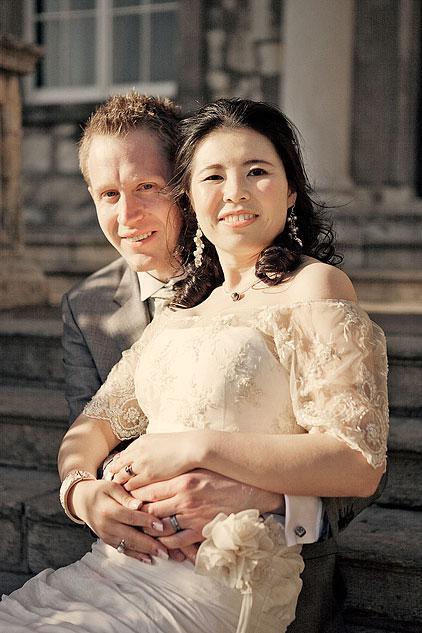 The dress… gorgeous, delicate, ethereal lace. And Natsumi and Pete look amazing together don't they.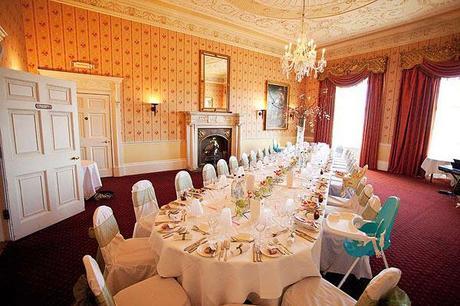 Inside – the wedding breakfast table (someone needs to start a wedding high-chair-cover service!)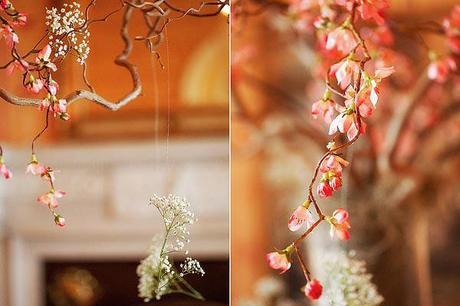 I love the delicate sprigs of cherry blossom – and the photographs make it look even prettier.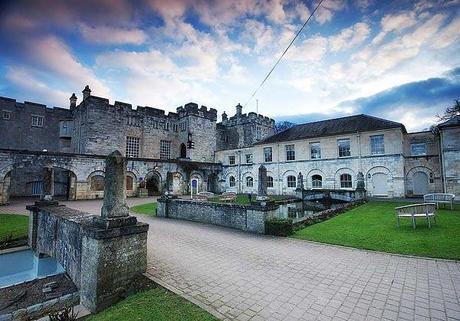 Hazlewood Castle. Stunning. www.hazlewood-castle.co.uk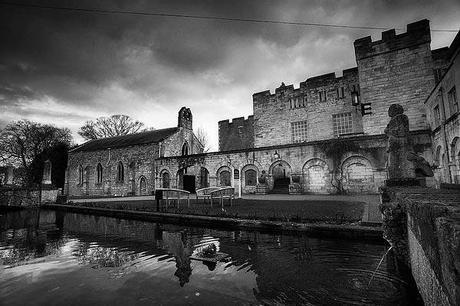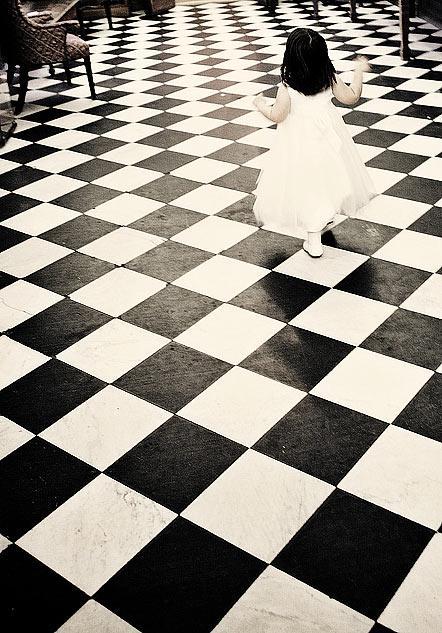 Alice in Wonderland… oh wow.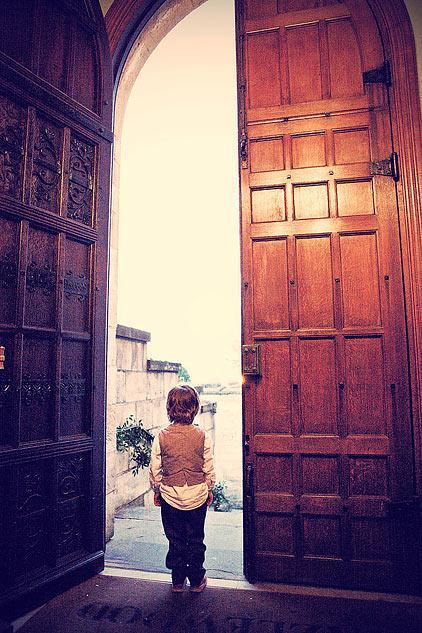 The lord of the manor? Cute!!!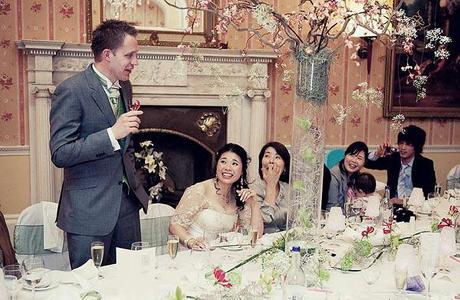 A fabulous centrepiece! The cherry blossom looks amazing. And Pete's speech is going down a treat.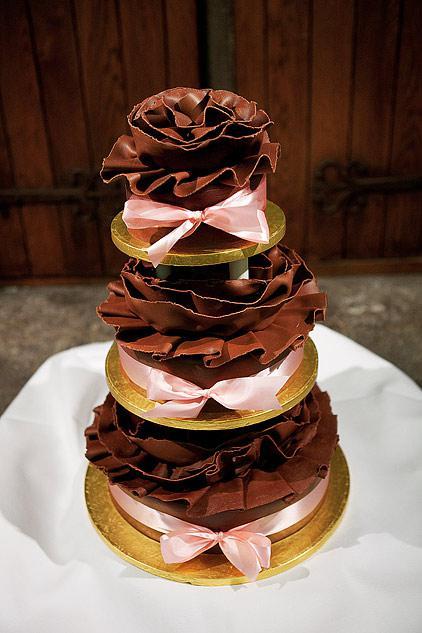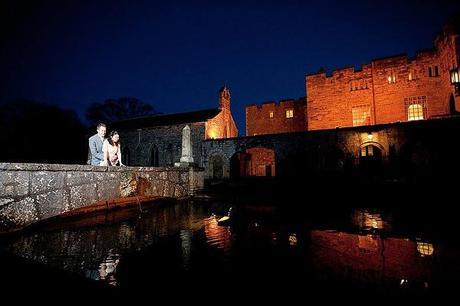 Night falls…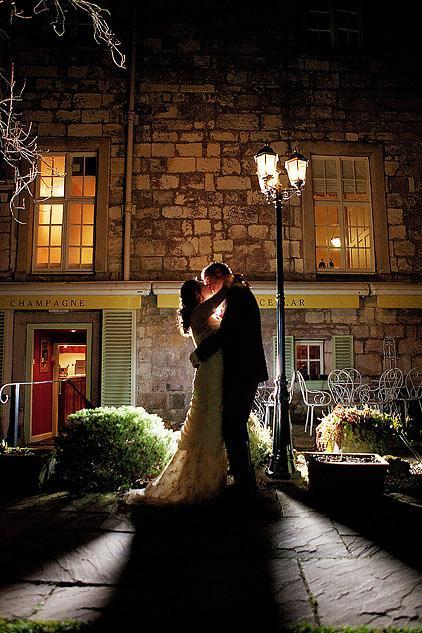 This final wedding photo is one of my favourites. The light surrounding Natsumi and Pete, their beautifully romantic silhouette and the lighting of the cafe setting behind them – it could be a film set, for a Parisian romance. It could be the final scene… where they Live Happily Ever After.
Thanks Tierney Photography for sharing such a beautiful wedding. There's more on the Tierney Photography blog, and for information about Mark Tierney and for prices and contact details visit www.tierneyphotography.co.uk