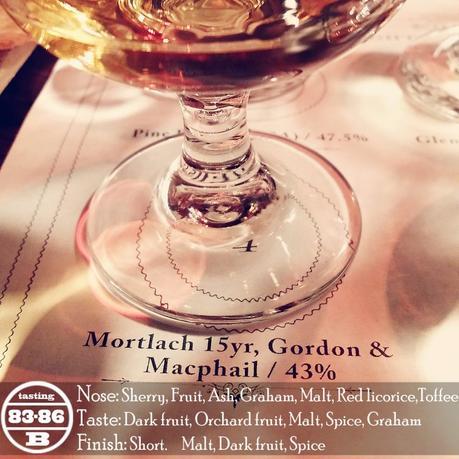 Gordon & Macphail Mortlach 15 Years comes to us from a distillery that supplies one of the core whiskies for Johnnie Walker… Mortlach. Built in 1823, Mortlach has been a major part of blended whisky for a long time and like most Scottish distilleries has been closed, re-opened and sold multiple times throughout its history. The most interesting of those exchanges involved it being sold for 270 GBP ($390 USD) back in 1831. Oh how times have changed.
In 2013 their current owner, Diageo, laid out an £18MM ($25,846,200) investment plan. This plan was meant to double the distilling capacity of Mortlach and begin promote its own OB single malt releases. Releases like the Mortlach Rare Old which was a decent whisky, but in no way deserved its original $100 asking price and so it didn't sell very well. This is why it can now easily be found for $40 -$50 where it should be.
Gordon & Macphail Mortlach 15 Years Info
Region: Speyside, Scotland
Distiller: Mortlach
Bottler: Gordon & Macphail
Mashbill: 100% Malted Barley
Cask: ex-Sherry
Age: 15 Years
ABV: 43%
Price: $85
Gordon & Macphail Mortlach 15 Years Review
EYE
Caramel
NOSE
Sherry, fruit, ash, graham, malt, red licorice with a bit of toffee. The aroma is full and rich, I'm quite content to sit and sniff this for a while.
PALATE
Huh… the palate has a lot going on, but it's not as full as the nose which has less going on. Odd, but the comparatively light palate has notes of dark fruit, orchard fruit, malt, spice, graham, blackberry licorice and a bit of oak and cocoa.
FINISH
Short and malty with a bit of dark fruit and spice
BALANCE, BODY & FEEL
Decent balance, medium body and a watery texture.
OVERALL
This Gordon & Macphail Mortlach 15 Years is an interesting whisky. The nose isn't as complex as the palate, but it's richer and more pleasant. The Palate has a wider array of notes, but it's lighter and doesn't carry any kind of a punch to it. Still, it's a decent malt with some nice attributes and if you're looking for a simple easy drinker this would fit the bill. Though for $85 you could definitely find better.
SCORE: 83-86/100 (B, not consumed at home)