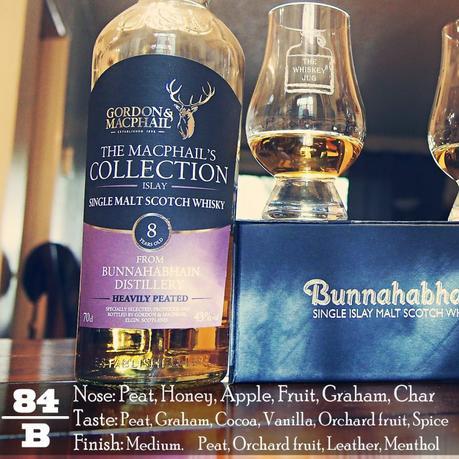 I originally tasted this Gordon and Macphail Bunnahabhain 8 Years Peated at our Malt Nuts Peated Bunnahabhain event; it was my contribution to the evening. Traditionally Bunnahabbhain is an un-peated whisky, but in their recent history they've done major peated runs in '97 and '05. Though when I did my write up for the above Malt Nuts event I got some interesting comments from insiders who said it was actually more frequent than that despite only '97 and '05 bottlings being available in the indie world. Those claims are also backed up by the back of this bottle.
According to the back label, and comments on that post, Bunnahabhain has been doing small batches of peated whisky each year for a little while, but I'm not sure when that started. We know there was a big run in '97 and then in '05 and so it seems like most of the peated whisky they make is either being kept all for themselves or used in the Black Bottle blended scotch.
It's possible they could only be releasing barrels to the indie market when they do huge runs like in '97 and '05 and that's why those years dominant the market. What I do know is that this bottle of Gordon and Macphail Bunnahabhain 8 Years Peated is a fascinating whisky to taste next to its similarly aged, but un-peated, brother.
Gordon and Macphail Bunnahabhain 8 Years Peated Info
Region: Islay, Scotland
Distiller: Bunnahabhain
Mashbill: 100% Malted Barley
Cask: ex-Bourbon
Age: 8 years
ABV: 43%
Price: $50
Gordon and Macphail Bunnahabhain 8 Years Peated Review
EYE
Honey
NOSE
Peat, honey, apple heavy orchard fruit, graham char and a coppery / metallic character. Light notes of saline and toffee come and go but don't make a big statement.
PALATE
Peat, graham, cocoa, vanilla, orchard fruit, spice and a touch of brine. I imagine this is what it would taste like to make s'mores, with a slice of apple, over a campfire on the beach. Odd I know, but that's what gets conjured up in my brain when sipping this.
FINISH
Medium finish of peat, orchard fruit, leather, menthol and char.
BALANCE, BODY & FEEL
Decent balance, medium body and soft easy feel. You could almost classify this as "peat for beginners".
OVERALL
Gordon and Macphail Bunnahabhain 8 Years Peated is a decent peated whisky. The soft s'mores-meets-apples character that plays from aroma through finish is nice and I've enjoyed sipping on it after a long day at work. The more I've sipped it, the more the youthfulness becomes apparent. More spirity vanilla tones have showed up along the way, but thanks to the heavily peated nature it feels more complimentary that derogatory. A fun little dram, but for $50 I'd rather have the regular Bunny 12.
SCORE: 84/100 (B)