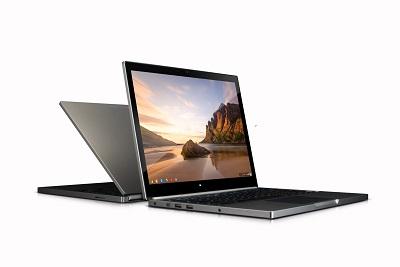 Search engine giant Google is trying hard to establish its brand identity away from merely a search engine especially in hi-tech gadgets. In the latest bid Google has introduced "Chromebook", its 1st touch enabled laptop.  The latest machine from Google runs on its own operating system "Chrome" which failed to attract large number of PC owners. Chromebook has largely been built in-house by Google.
Google Chromebook is built to challenge the authority of Apple's MacBook Pro with Retina display and comes with an Ivy Bridge processor by Intel, fast 4G LTE connectivity and an ultra-high-resolution screen. Chromebook's 32.64cm screen resolution is very similar MacBook Pro with Retina display. Such a resolution is aimed to have high enough pixel density so that human eye cannot notice on screen pixilation.
At least 4.3 million pixels are packed in screen which offers sharp text, bright colors and extra-wide watching angles. Such a rich and engaging screen is obvious to entice the user to touch the screen. To fulfill this desire and to add to user experience Company has added touch functionality to the screen.
"This Chromebook has the highest pixel density (239 pixels per inch) of any laptop screen on the market today," A Google spokesman said.