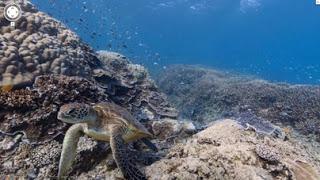 Are you often roaming with the service Street View from Google Maps? Now there is a good news for you.
Google
officially released
Street View,
not only for land, but also for the ocean. Right, now you need not dive to see the beauty of nature and the inhabitants of the ocean. Simply use the service Street View in Google, and enjoy the ride as divers.
More recently, Google has released the first underwater scenery in service Street View. View of the Google camera catches the recording of the underwater Great Barrief Reef, Heron Island, Queensland, Australia.
The purpose of the program is that people around the world can explore the oceans as well as learning about composition and reef life.
"With passion and amazing photographs, you do not have to be a diver - or even know how to swim - to explore and look at the six most outstanding coral reefs that exist in the ocean," said Briean McClendon, vice president of Google Maps and Earth. 'Now, anyone can be like Jacques Cousteau and dive with sea turtles, fish and stingrays in Australia, the Philippines and Hawaii.'
This program is made possible through the cooperation of Seaview Catlin Survey, a partnership between the insurer Catlin Group Limited and nonprofits Underwater Earth. The survey was conducted at a depth of 100 meters and captured thousands of images continuously with the point of view of 360 degrees.
origin source by Google Lat Long Blog