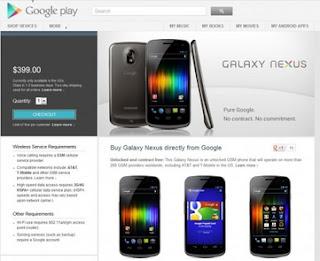 Google has decided to sell the smartphone directly. Devices in the category and they are at the Play Store 16GB Galaxy Nexus global version (HSPA +) and is unlocked. It's 
sold only $ 399 , without a contract with any provider. 
Furthermore, the Galaxy Nexus sold there will have a Google Wallet with contents of $ 10. Not bad. 

Unfortunately, this device category is only available exclusively in the United States, you guys may try 

to click this link

 , there is a statement that the Device category is not available in your country. 

But if sales opportunities devices PlayStore Google will be extended to the whole world is still wide open.
source