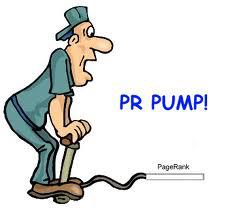 Pump My Page Rank
Well the Internet World has been ROCKED!
The Google Page Rank update has occured…Kickstart must admint that we have felt a Page Rank update was on the cards!
So how was it for you??  Kickstart wants to know how you other bloggers have got on?
We are very happy down at Kickstart HQ as we're only in our infancy and we've made the huge step from N/A to Page Rank O in all of our pages bar 1 so thanks for everyone checking us out and linking to us as we couldn't have done it without our Kickstartees!
So here's a GREAT geek fact for you…
The term "Page Rank" was named after one of Googles founders, Larry PAGE….rather lucky its all about juding the quality of a web page ey!
Anyway, this is just a quick one to confirm that yes the update has occured so get checking your blogs asap!
Laters,
Kickstart