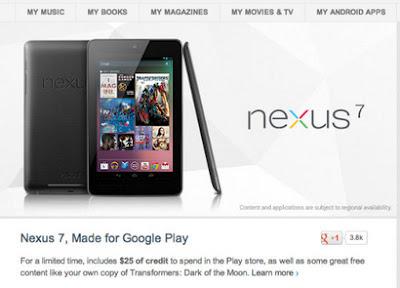 Google Nexus 7 was rumored get best-selling in United States.A variety of major retail store chains in the country are reported to have run out of the gadget is on Friday.
GameStop store said that the two packages Nexus 7 allocation has been exhausted. While Sam's Club, a network of warehouses owned by Wal-Mart, and Staples stores listed stock up on their site. Meanwhile, main Office shop through the website reportedly still selling the first tablet with Android OS is Jelly Bean.
The third allocation Nexus 7 packets that have been ordered will be available in August. However, GameStop refused to name the exact number of orders already received. Eric Schmidt, Google's Executive Chairman, told reporters on Wednesday that there is an enormous demand on the Nexus 7 in the first week after the tablet was introduced.

Google made Android tablet working with Asus chipset uses the Nvidia Tegra 3 quad-core and sold starting price of 199 dollars in the U.S. for the 8GB version. 
source teknoup