Instead of linking to a care page, I'll just let my blogging buddies know what has happened to my daughter Julie over the past two days:
 She had her chemo treatment, but a week later she had severe nausea.
When the nausea continued to the point that it was obviously not related to the chemo, she was taken by ambulance to her local hospital (20 miles from her home in S. Carolina) and then AGAIN transferred by another ambulance several hours later to Charlotte, NC to the 700 bed Carolina Medical Center for tests on her AV shunt (the AV shunt drains fluid from the brain to the heart to treat her hydrocephalous).  She has had over 100 AV shunt revisions in her life.
 Julie underwent emergency surgery last night to replace the clogged. She is speaking coherently now, has no headaches and has no memory of anything that happened, including her intense pain from the headaches, for the past 72 hours. That short term memory will likely not be regained, and I say "who cares?" as she won't remember that awful time.
Julie is supposed to sit up in her wheelchair for a few hours today while in hospital and will be discharged tomorrow if all goes well.
Thank you all for your prayers and concern!
The other good news is the package of breast cancer clothing accessories that came in the mail yesterday from Cafe Press.
This is the t-shirt I wore yesterday: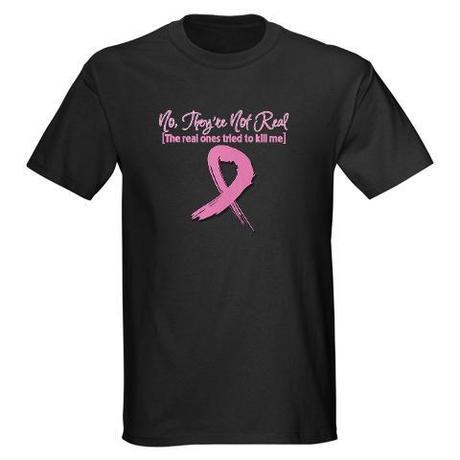 It says: "They're Not Real (the real ones tried to kill me)
Here is a hat for Julie going in the mail today, also from Cafe Press: