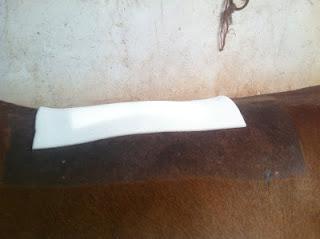 Julius's bandage after his kissing spine surgery
While my blog has been mostly about what is happening here in Germany with Seb and Chad, we must not forget precious Julius who is still over in England! For those that don't know, Julius is with Sue McMahon and Gary McKenna in Newent, Gloucestershire, recovering from kissing spine surgery. Read the post about his surgery HERE.
So now, I have to bring the very unfortunate news that he is now lame. He was handwalked and put in the field for four weeks and was fine, but when he started to be lunged he appeared very lame apparently. I was absolutely gutted to hear that he hasn't improved, and he is going to the vet tomorrow to be assessed for a full diagnosis. All horse owners know how frustrating and difficult lameness can be, not to mention the cost, time, effort and pain that comes with it. One of the things to help ease the blow of having a lame horse other than a reassuring vet you have confidence in, is a compassionate Equine Insurance company, for example Petplan Equine.
As a leading provider of
horse insurance
,
Petplan
Equine settles thousands of claims every year, covering hundreds of different types of injuries and conditions. It will come as no surprise to most horse owners to learn that the highest proportion of vet
fees
claims
are
for lameness. At some time in their life all horses succumb to lameness however, th
e causes are many and varied and can confound even the most experienced vet. Thanks to advances in veterinary science and technology
there is now a wide
range of diagnostic techniques
available to help vets
to accurately pinpoint the
cause of
pain. Isabella
v
on
Mesterhazy
, Head of Marketing for
Petplan
Equine
,
looks at
some of the diagnostic tools available and
considers
the cost.
"
Most owners at some point experience a lame horse, which can be distressing. It can spell anything from a few
days'
box rest or major rehabilitation to the end of a promising competitive career or, at worst, euthanasia.
"
Lameness results from pain associated with disease or injury in the horse's musculoskeletal system and can present in a number of ways, so the important thing to do at the first sign of discomfort is contact your vet.
The sooner an accurate diagnosis is made and appropriate treatment is underway, the stronger the chance of the horse making a
quick and
full
recovery. Accurately diagnosing lameness can be expensive so it is important to establish that your insurance policy covers diagnostics, noting that that some insurance companies place a limit on the amount they will pay out.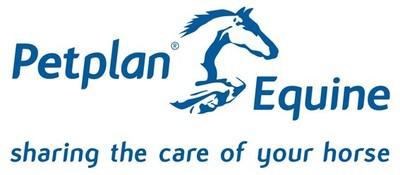 Clinical diagnosis
Initially your vet will perform a clinical hands-on examination that will include observing your horse at all paces (depending how lame the horse is), including on turns and circles, and ideally ridden if the lameness is subtle.
Assessing the effect of manipulation of the limbs and back, including flexion tests, and use of nerve blocks (using local anaesthetic to temporarily block the pain sensation)
can to help
establish where the pain is coming from. Often, further investigation is required.
Modern Imaging
Modern imaging techniques range from X-ray to the latest Magnetic Resonance Imaging (MRI) allowing your vet to see in detail the problem affecting your horse. The choice of technique will depend upon the results of the initial clinical examination and to an extent, what you can afford.
X-Ray
& Ultrasound
X-ray, is the most common diagnostic imaging technique and is best used for observing injury to bones. However x-rays may not pick up damage to ligaments, tendons and joints. Ultrasound uses sound waves to produce images of soft tissues as well as parts of bones and joints. As an owner you may be paying in the region of £100 to £500 for a straightforward procedure, while for more complex X-rays this could be considerably more.
MRI
The investment in an MRI Scanner can be anything from
£500k to £1m s
o it's not surprising that this diagnostic technique, which allows detailed imaging of both soft tissue and bone structures, and takes time and veterinary expertise to perform, could cost you in the region of £1200 to £2500 for a scan.
CT Scanning
A specialist radiography technique is computed tomography (CT scanning) that produces a cross sectional x-ray which can then be manipulated to produce a three dimensional model to provide detailed information.
Scintigraphy
Nuclear
scintigraphy
is a specialist modern bone scanning technique not available at all veterinary practices, although it is common in most equine hospitals. Among its uses
is
the identification of bone abnormalities in cases such as osteoarthritis. The cost
for
an assessment can be in the region of £600 and £1500 depending on the type of study required.
Arthroscopy
Arthroscopy is a surgical procedure which uses a camera inserted into joints to determine the health of cartilage in cases of osteoarthritis. An invasive technique,
arthroscopy
requires the horse to be anaesthetised. This increases the cost, which is also affected by the type of problem the horse has and the details of the procedure required.
It is a good idea to ask your vet to explain the advantages and limitations of each of the diagnostic techniques. Imaging techniques are essential tools in modern lameness diagnosis but can be expensive so if you have an equine insurance policy it is worth checking whether there is a limit on the amount your insurer will pay for diagnostics.
Petplan
Equine
provide
s
a specialist equine insurance policy that offers full vet fee cover including diagnostics giving you the peace of mind that comes with knowing that your vet can do whatever is necessary to reach an accurate prognosis for your horse's future and to develop an effective treatment plan at the earliest opportunity.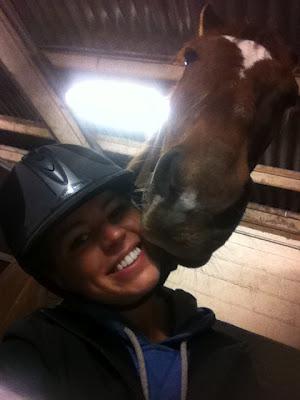 Hang in there Jules, Mummy loves you!!!
So fingers crossed for Julius and that the vets at Bushy Equine find a diagnosis tomorrow when he goes in for his appointment. I hope they don't have to do too many of the above mentioned diagnosis techniques, I am praying for a quick and easy discovery! Poor Jules, I hope one day he comes out of all this happy and as good as new. I am just so thankful that Sue and Gary are absolutely incredible at caring for him and giving him all the love and attention he needs

.