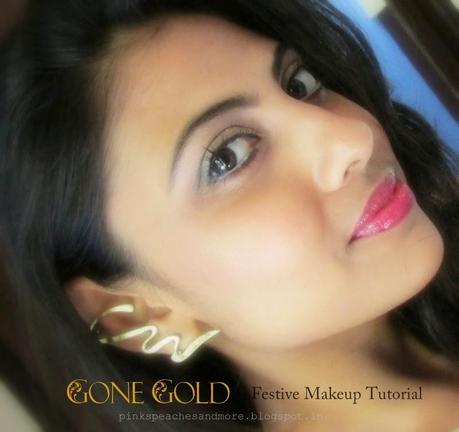 Hi all! It's been a long time since my first and so far last eye makeup tutorial which was posted in the month of February. As the festival of lights and glamour a.k.a Diwali is around the corner, I thought of doing another makeup tutorial for you, theme being the lights and sparkles of Diwali. You must agree with me that nothing comes in mind except for golden eye-makeup when it comes to Indian festive makeup look.
Here is my look inspired by the glitz and glam of the most glamorous Indian festival. Hope you enjoy it. Please read this post till the end for the disclaimer. Now, let's get into the post-
Products Used-

(Face)
Ponds' BB CreamMaybelline Dream Lumi Touch Concealer Lakme 9 to 5 Flawless Matte Complexion CompactL'Oreal True Match Blush in Rosy Cheeks

(Eyes)
ELF Eyelid PrimerMaybelline Color Tattoo in Bold GoldMUA Glamour Nights Palette (Golden and Black)MUA Undressed Palette (Shade 1)Maybelline Colossal KajalMUA Eyeliner (White)Maybelline The Volume Express Mascara

(Brows)
MUA Glamour Nights Palette (Black)

(Lips)
Colorbar Velvet Matte Lipstick- Oh My MagentaEssence XXXL Shine Lipgloss- True Love

(Brushes & Tools)
Real Techniques Expert Face BrushFaces Eye Shader BrushELF Small Angled BrushColorbar Emphaseyes Blending BrushELF Crease BrushFaces Eyelash Curler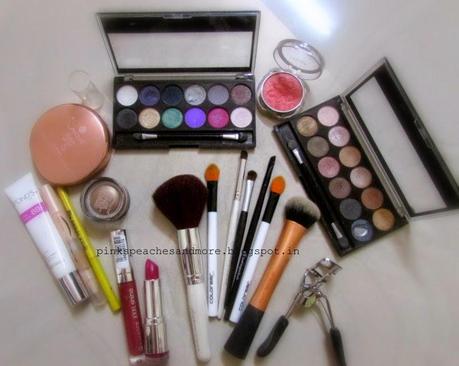 Gone Gold | Simple and Easy Festive Makeup Tutorial (Step by Step)
Step 1:
Prep your face with your favorite foundation and concealer and set it with a compact or loose powder.
Step 2:
Fill in your brows with a black or deep brown eye shadow or eyebrow powder understanding your skin-tone. [Tip: Use an angled brush to fill in your eye-brows. It works precisely on the arches.]
Step 3:
Prime your eyelids with any eyelid primer. I have used my favorite ELF eyelid primer. This step is mandatory in order to make your eye makeup last longer no matter how long you let yourself on the dance-floor.
Step 4:
Now, apply the Maybelline Color Tattoo in Bold Gold all over your lids, leaving the crease area. This will act as a base and will give your eye shadows something to stick to. [Tip: Apply the product with your finger. It will allow you to work smooth and it will distribute the product evenly on the lids.]
Step 5:
Apply a golden eye shadow that best matches your skin all over the lids with the help of a good shader brush. Here you can also use your fingers to apply the eye shadow.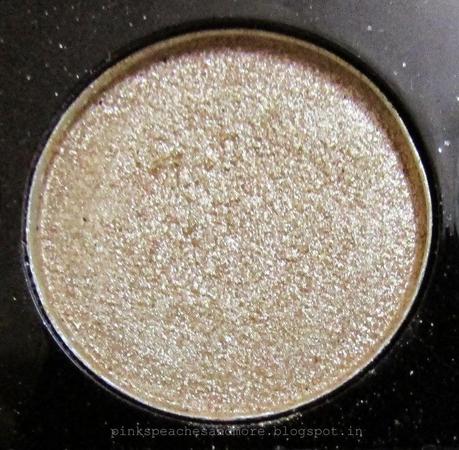 Gone Gold | Simple and Easy Festive Makeup Tutorial (Step by Step)
Step 6:
Take a crease brush and apply a little bit of any matte black eye shadow and dab it on the outer 'v' of your eyes. Don't overdo it. We just want a subtle hint of black to eliminate the flatness of the eye look and add a little definition.  
Step 7:
Blend it very well with a fluffy blending brush. [Tip: When you are using a black eye-shadow, make sure you blend it extra carefully. Don't drag it to the entire lid.]
Step 8:
Tightline the upper waterline with a jet black kohl. I have used the Maybelline Colossal Kajal as it lasts long. Curl your lashes and apply multiple coats of mascara. Make sure you apply generous coats of mascara on top and bottom lashes as we are not using any eyeliner to define the eyes. In this case, mascara will do it. Apply a flesh-tone shade to the brow bones. [Tip: Use a long-wear and water-resistant eye-pencil for tightlining the eyes. It won't transfer and won't smear the eye with black kohl.]
Step 9:
Apply white kohl on your lower waterline. With the help of the same angled brush and black eye-shadow you used for the eyebrows and trace along your lower lash line, leaving the inner corners of your eyes. [Tip: Applying white liner on the lower waterline creates the illusion of bigger eyes.]
Step 10:
Final look.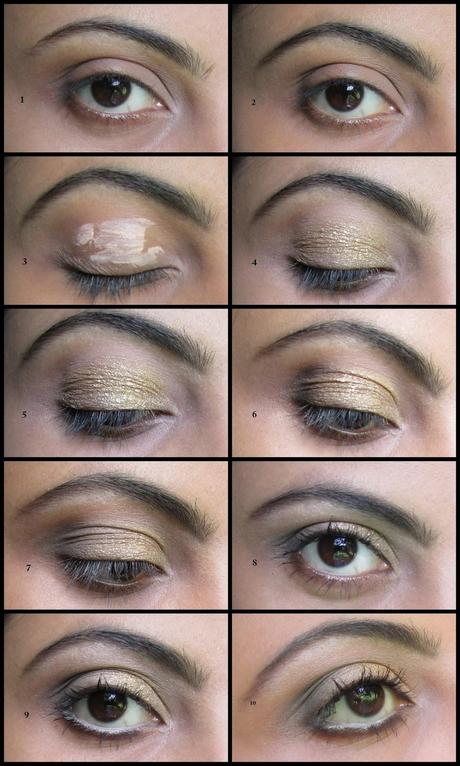 Gone Gold | Simple and Easy Festive Makeup Tutorial (Step by Step)
You can use your choice of products, it's not mandatory to use what I used.
~Finished look~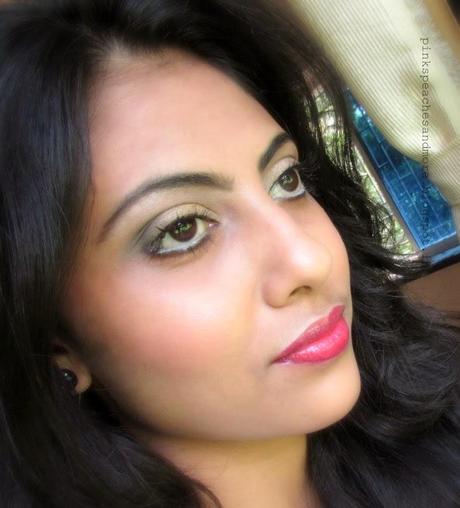 Gone Gold | Simple and Easy Festive Makeup Tutorial (Step by Step)

Disclaimer:
1. Makeup is not what I think is extremely important in our lives, nor that I preach that everyone should use makeup. Some like makeup and some don't. It's just like some people love dressing up and some love to be in their pajamas most of the time (Even I belong to the latter category :P). So, there is nothing wrong in doing makeup and nothing wrong in not doing it as well. One should not be judged in terms of their preferences.  
2. I am not a makeup guru, nor that am I claiming myself a makeup expert. It's just what I tried on myself and wanted to share with all of you. There are many expert makeup artists and bloggers who are way better than me. I do not compare myself to them as I feel I have a long way to walk before I reach that level. Please do not judge me.
The title of the post makes me the 'official Gone Girl fanatic'. LOL :P

I hope you liked the look and the tutorial. Feel free to comment below. Show your love, write down your queries and expert advices. Love you all. Till next time. Bye

J