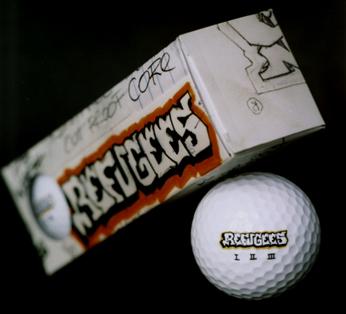 Now, it's true that a Golf Refugees ball has never won a professional golf tournament.
That is probably down to the fact that there isn't a golf pro playing with them. No tournament wins, so what.
However some top geezer contacted us this week to spill the beans on his recent golfing success. He'd just achieved 40 stableford points with five birdies and three pars around the tight Duchess course at Woburn Golf & Country Club, home of the Poulter.
Naturally at a such a prestigious club, where your first annual membership fee costs a cool 10k, if you can get in, their members tend to use the traditionally branded golf balls at three quid a pop.

How satisfying for him and us that his obvious golfing ability and Golf Refugees 'graffiti' ball led him to relieve his Titliest pro v1 playing buddies of a pony and a few rounds of drinks. (Pony=£25)
-------------------------------------------------