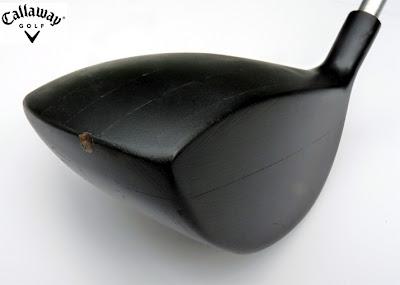 Golf Refugees have received a reply from Callaway's Vice President General Council and Corporate Secretary in regard to who thought of the idea of using an aerofoil section hosel for a golf club head. He said "You did not provide Callaway with any specific details regarding your wind tunnel and CFD experiments".
To remind Callaway, Golf Refugees have forwarded a picture of a golf club head wind tunnel model created by Callaway to assist us with our testing. Creating a wind tunnel model requires a serious amount of time, effort and money. First you need a high quality CAD model and then you convert the data to enable a CNC machine to follow generated tool paths. At the time Golf Refugees did not have a CAD model of a 'standard' golf club head, we only had our own proposed aerodynamic design for a golf club head. We relayed information to Callaway regarding the required scale (2:1) for the wind tunnel model and used their 'standard' golf club head for comparison testing with our own aerodynamic design. It is worth noting that the Callaway wind tunnel model features a circular section hosel, which all of their then and current golf club heads have used.
In return for supplying a wind tunnel model to Golf Refugees, we offered Callaway access to our results.
It is highly probable that Callaway did not use our aerodynamic data and conducted their own testing some years later. The main point we are trying to make with Callaway is 'they assisted us with our aerodynamic testing and were fully aware of the fact we were evaluating an aerofoil section hosel for a golf club head'. Which they are now claiming as their own idea.