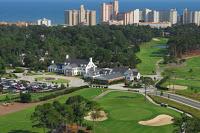 Are you a golf beginner looking to take a trip to the Myrtle Beach area and want to play a few rounds?
The Grand Strand has over eighty golf courses; some are definitely NOT for newbies while others are perfect for an amateur just starting to "feel his or her oats".
For many years I have championed for Myrtle Beach and it's golf courses; aside from the great value, the atmosphere is one of fun, the golf courses are exceptional and South Carolina, in general, is a warm, sunny and welcoming place for a visit.
I have played many breathtaking Myrtle Beach golf courses and would like to share my favorites for beginners with you so, when you decide to take a Myrtle Beach vacation, you will have an idea of the lay of the land. Feel free to ask in the comments section of this golf blog about restaurants and things to do in Myrtle Beach.
Let's start with the "beach" in Myrtle Beach - there are sixty miles of soft sand along the Grand Strand and there are north, middle and southern locations to stay and play which are filled with atmosphere. Below are the main areas and a couple of golf courses I have chosen based on amenities, ease of play and just plain beauty of their surroundings.
South Strand and Pawleys Island: There are so many golf courses in the south end of Myrtle Beach, I was hard-pressed to select just a few!
Caledonia Golf and Fish Club: If you want a real taste of the south, visit Caledonia in Pawleys Island; this golf club is a Lowcountry staple, complete with towering oaks, an antebellum-style clubhouse and nature preserve teeming with wildlife. The course is difficult yet fair and, as review upon review has stated, "One of the best I have played." From the forward tees, beginners' yardage is under 5,000 - even if you don't play well on this course, you will certainly admire the scenery.
Tupelo Bay Golf Course: An executive golf course and par-3 course located just south of Myrtle Beach in Garden City, Tupelo Bay executive has the look and feel of a full-size course, and it is a great test for beginners as well as those golfers who want to ease into their stay and play vacation.
Central Myrtle Beach:
Pine Lakes Country Club: The "Granddaddy" of Myrtle Beach golf and host of many "firsts" along the Grand Strand. Between the beautiful Clubhouse (a wedding and event favorite) and the simple, aesthetic golf course design, this Pine Lakes is a "must-see" and a "must-play" along the Grand Strand.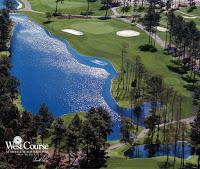 Myrtle Beach National - West Course: Arnold Palmer stands guard at the entrance to Myrtle Beach National Golf Club, a three-course enclosed compound along the 501 corridor; King's North and Southcreek round out the triad of courses and all have different personalities.
The West Course, in particular, has been chosen for beginners and high handicappers; from the forward tees the course is about 5,200 yards, has open fairways, a traditional layout and is pretty straightforward. There is also a feeling of seclusion and natural forestry surrounding the fairways and the course is well maintained.
North Myrtle Beach:
Grande Dunes Resort Course: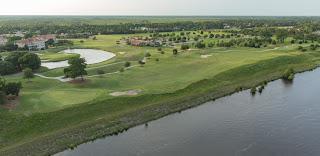 I didn't place Grande Dunes Resort Course on this list because it was easy - I placed it here because of that "vacation feel" it exudes right from the entrance where you cross over the bridge through the eighteen holes. Grande Dunes plays a little over 5,300 yards from the forward tees which offers a test but also offers inspiring views to relax the mind and spirit of any level of golfer.
Hole 7, a par 5 is a tester but beginners have a better chance at moving forward using their irons so, if played smartly, the course will be fun and memorable. You can also visit Dale Ketola, Director of Instruction at the Grande Dunes Golf Performance Center, before, during or after your round...just make sure to call for an appointment!
Meadowlands Golf Club: I played Meadowlands when I was a beginner and, after reading an article by Ian Guerin recently, thought back and added this course. Just over the South Carolina border, in Calabash, Guerin states that Meadowlands, "gives players the opportunity to go after more greens with less risk. Combined with a wide-open design, and there is plenty of room for error on nearly all of the par 4s and 5s here."
Have a golf course you would like to add to this list? Place it in our golf blog comments section below and tag us on Twitter @Golf4Beginners.
photos: Founders Group