Once beginners translate what they have learned from instructors and the driving range into practical use and actually play a golf course, it is important to track improvement.
One way to do this is through proper statistical analysis - there are a few statistics that should be tracked but this article will focus on one stat in particular.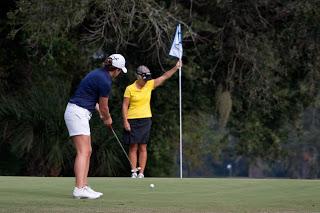 Although I have been practicing putting and chipping (both win tournaments), lately I have been focusing on how many greens I land on in regulation...GIR.
PracticalGolf.com describes the greens-in-regulation statistic as "if any part of your ball is touching the putting surface and the number of strokes taken is at least two fewer than par....your chances of making a par (or better) dramatically increase when your ball is on the putting surface versus being in the rough or a sand trap."
This description makes sense - golfers would have to add another step of chipping or bunker play, and get close to the pin, in order to try and make par as opposed to rolling putts.
Hank Haney believes, "even if you're pretty far off the green, like 20 feet or so, putting is a much better option. If you grab your putter, you're pretty much guaranteed to get it somewhere near the hole. Can you say the same about your wedge?"
For PGA Tour golfers, this statistic may or may not be as important as it is to the amateur golfer as so many tour players hone in on their target better than average players - scoring average ranks as one of their top definers on tour.
It's important to keep track of greens-in-regulation and how many putts it takes you to get the ball into the hole.
In a Golf Digest article, Lucius Riccio, Ph.D. offers a clear cut way for beginners to track both statistics. "An easy way to record GIR is to circle the hole number, or your hole score when you hit a green. At the end of the day, add the circles. For putting, simply count your total putts for the day. After a few rounds, you'll start to see how GIR and putting influence score."

TIP: Riccio says that, when counting the number of putts you make, think about this fact: "the typical 95-shooter on average takes 37 putts per round; the typical pro (shooting about 71) takes 29. To break 90, get your putts down to 34 or so. To break 80, get to 31 or 32."
So, sharpen your pencils and your irons, take notes and create statistics for game improvement and you'll see lower scores!
How many greens-in-regulation and putts do you make in a round of golf? Let us know in the comments section of this golf blog and on Twitter @Golf4Beginners.