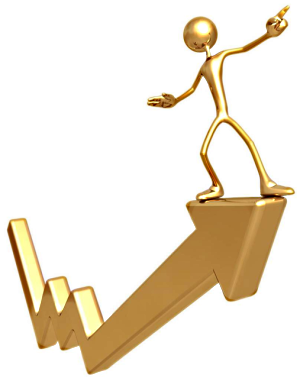 Gold Rising?
[courtesy Google Images]
There are about 220 trading days left in this year.  If gold continued to rise at an average of $4/day, the price of gold could be up another $880 for a year-end price of $2,210—that's an increase of 66% in the next 10.5 months.  Over 6% per month.
Most conventional paper-debt investment vehicles (stocks, bonds, bank accounts, pension funds, etc.) will be happy to generate a 5% increase per year.  I don't know what gold will actually do in the remainder of the year, but gold has a shot at an average increase of 5% per month.
Naked short selling has been a primary strategy for suppressing the prices of gold and silver. A friend of mine who should know what he's talking about told me that the Federal Reserve has announced that naked of short selling of gold will be prohibited after May 1st.  I haven't confirmed his report, but if it's true, the ability of government and/or Wall Street banks to suppress the price of gold will soon be badly diminished or even terminated.
My friend believes that the coming suspension of naked short selling is the underlying cause for the current jump in gold prices.   I'm not making a prediction but, if my friend's report and conjecture are accurate, it's conceivable that the price of gold could double by the end of this year.