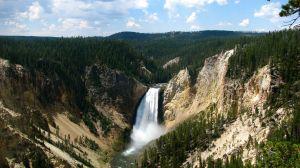 As many of you know, I've spent several weeks in Wyoming for business in the last month or so.  Sadly, my time there was all business and I missed out on one very popular attraction that was only a few short hours away: Yellowstone National Park.  Being so close to one of the most treasured places our country has to offer had me day-dreaming on several occasions to book one of the many Yellowstone Tours before coming home, even if just for a day.
But alas, I did not, and the odds of me visiting the world's first national park have quickly dropped in the foreseeable future.  But that still didn't stop me from coming home and researching what I missed.  What I discovered, however, may move the park up a few notches on my list of must sees, as it is truly impressive.  (Photo "Lower Falls - Yellowstone River" by fgreen70)
Old Faithful is Going Strong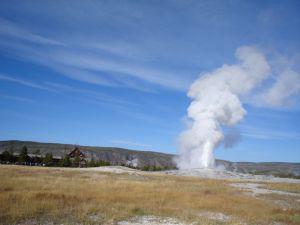 Regardless of what country you are from, you probably have heard of Old Faithful at one point in your life.  Calling Yellowstone its home, Old Faithful has been erupting since its first official discovery and naming in 1870.  (Photo "Old Faithful Geyser" by tonylehrma)
What makes Old Faithful so faithful is that the interval at which it erupts can be measured near continually at every hour to hour and a half.  The statistics go much further in to detail, and I will not bore you with any more, but it is safe to say that if the last eruption was less than 2.5 minutes in length, the next eruption will happen 65 minutes later (+/- 10 minutes).  If the last eruption was more than 2.5 minutes in length, the next eruption will take a bit longer, 91 minutes later (+/- 10 minutes).
The reason for this steady frequency is simple, Old Faithful is isolated to any other thermal features in the nearby region and has nothing that will change its pattern.  With over 130,000 eruptions recorded and a maximum height of 185 feet, it is sure to say that Old Faithful will remain well into the future.
Animal Watching is a Must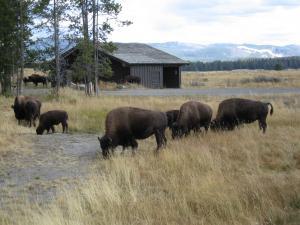 It is not just to the national parks of Africa that you can see wild animals, and Yellowstone sure does not disappoint.  All being said and done, Yellowstone is one of largest spots in the continental United States to see wild animals including: bison (3,000), bear (600), elk (> 30,000), moose, deer, mountain lion, and even the gray wolf that has been only recently reintroduced to the population and has grown in size from 66 in the mid-90s to almost 120 today.  (Photo "Buffalo Herd - Yellowstone" by MEJones)
With all of these animals in the park, it is incredibly likely you'll see many that you had only ever seen before in the zoo.  Outside of the national park in Wyoming, like where I was, you will only be lucky to see several hundred deer.  So if you want to see spectacular wildlife, Yellowstone is where you need to be.
Outside of the wildlife and geysers, Yellowstone is still sure to impress.  At over 3,000 square miles it is likely that all the hiking, driving around, and random detours will only hit a small bit of the large park.   Whether it is stopping at the petrified forest, the "grand canyon" of Yellowstone, the nearly 300 waterfalls, or the visible signs of the super volcano system that the park sits on, there truly is everything; and I am here kicking myself for not taking a few quick Yellowstone National Park tours and checking it out.
There is always next time, right?