This Sunday, July 31st, I made my first trip to the new Yankee Stadium. It has been a while since I have gone to a game in the Bronx and over the past winter we hatched a scheme to get a bunch of people together to go to a game. Originally we were going to try to do a baseball weekend, seeing a couple of minor league games leading up to the Yankee game but that didn't work out and it was just the Yankees vs. the Baltimore Orioles on Sunday. Before I go any further, let me thank Manhattan Man and CollegeBoy for originally thinking up the idea, PO Jen for her kick start on the effort about 8 weeks ago and the people over at Disability Services at Yankee Stadium who did a nice job of getting us in relative proximity for the game, on short notice.
I was looking forward to seeing the game with CollegeBoy and MillieJupiter and MissNicole (who is a more recent Yankee convert, much to the chagrin of her Red Sox lovin' family!). I got to see some family and friends which is always fun. So I thought I would take a minute or two and make some personal observations about the game and the trip in general.
-Special thanks to MillieJupiter who did the driving! She was great and can now boast that she has driven in Bronx traffic and survived…
-The parking and the traffic situation at the new Yankee Stadium is vastly improved over the situation with the old place. We made the 3 hour trek from Massachusetts and within 5 minutes of getting off the Major Deegan Expressway, were parked within 500 feet of the main stadium gate. When leaving, the line out was quick and the traffic patrol had us back on the highway within 5 minutes. I have sat for 60 minutes trying to get to or from the old stadium, this was wonderful yesterday…
-the NY Yankees must provide employment for about a billion people. There was security and Yankee staff for help all around the place. You couldn't swing Derek Jeter's jockstrap without hitting on of the myriad of employees. They were courteous, friendly, helpful and helped make this an excellent experience. Special props to the guard who got me into the ticket window early and without having to wait on the line.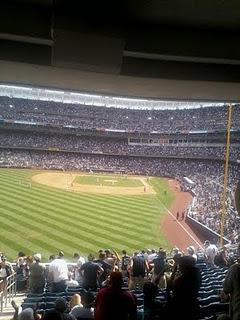 (the view from our seats!)
-One of the best things that happened (besides the Yankee victory) was that I also got to meet an internet friend JHop, whose blog "Chicks Dig the Fastball" always interests me and is one of my daily internet reads. We got to spend some time with talking baseball and fantasy baseball (where she is a rookie wizard and is positioning my herself to be the first rookie to win the whole a championship in a rookie season in the 28 years I have been running a league!), and fantasy football and Derek Jeter and blogs and podcasts and oh my! It was great to finally meet her and everyone should click on THIS LINK and give her blog a read. You will enjoy it.
-CollegeBoy said it best when he tweeted: "There is nothing greater in the world than being with family and friends at a New York Yankee game. Greatest feeling in the world." I concur 100%; it was nice to see everybody, catch up a bit and enjoy the game!
-Speaking of the game, it was just a perfect experience. The Yankees won, we got to see Mariano Rivera, the best relief pitcher ever, throw a perfect 9th inning for the save, we saw Brett Gardner triple into the right field corner, the most exciting play in baseball and CollegeBoy and MissNicole collected enough Yankee souvenir cups to last us until the next game we go to. Perfect…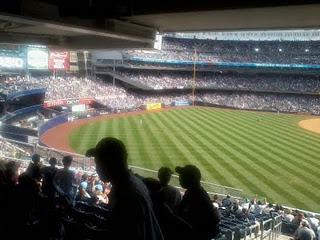 (Mariano enters the game and the Baltimore Orioles shudder...)
-You know, you can never predict baseball… I talked with CollegeBoy about the fact that he had never seen any thing memorable at the stadium in all the games he has gone to and almost before the words were out of his mouth, we had a weird situation crop up. Derek Jeter was hit on the hand with a pitch and the Yankees back up infielder was already in the game as Robbie Cano was the DH. This lead to lots of speculation about what they were going to do as it was early in the game and no one likes to give up their DH. We were among the surprised when Francisco Cervelli, the back up catcher came out to play second base for a few innings, a position he had never played in the major leagues before. "Well, Suzyn, you know, you just can't predict baseball!"– John Sterling
(This post will be cross posted in Penguin Droppings...)