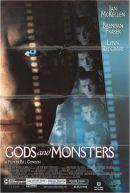 The last few days of director James Whale are explored as he is haunted by memories.
James Whale was most well known for directing Frankenstein but probably not for his homosexuality. This film explores both of those things in such a clever way as Whale forms a friendship with his new gardener and ex-Marine Clayton Boone.
Watching this film has come about after the seeing Ian McKellen on stage last week which lead to a catch up in some of his films, buying quite a few DVD/Blu-Ray's to watch. This one was probably a great place to start considering he received an Oscar Nomination for his brilliant haunting performance. Lynn Redgrave was equally deserving of the nomination for her supporting role. I was also rather impressed with Brendan Fraser in a more serious role, thought he worked well with McKellen.
We see Whale struggle to accept and deal with his declining health as he suffers strokes and cannot often get out of bed easily without Hanna's help. This is something which causes too much pain in not being able to look after himself and that comes through in the performance. He has a passion for drawing and that is how the friendship with Boone comes about when he wants to draw him.
The uncomfortable side for this comes when Boone actually finds out about Whale being homosexual and certain conversations scare him, he is intimidated by the old man and does not really know how to deal with that. Throughout the film small clips from the Frankenstein films are put together to show as his thoughts back to how it was made and filmed. Also mentions to his other films, which he apparently preferred and how he ended up leaving Hollywood.
The title of the film gods and monsters is linked very much to the Bride of Frankenstein and taken directly from one of the lines. Showing that the gods and monsters are actually in our everyday life, which one will you end up being? It certainly does raise a lot of talking points and wondering how it must have been for Whale living as a homosexual in a time when it was "not the done thing" and very much frowned upon.
Exploring how someone who knows they are dying starts thinking about the past and some of the very good times, but also the very sad times. Back to the man he loved in the great war and how it all ended so badly. Although that did create for such a fantastic scene towards the end which I thought made things very classy. I enjoy watching films like this which are based on someones life where I have no idea of the ending, as it allows me to guess and try to work out what exactly is going to happen next.
This film certainly shows the fantastic range McKellen has as an actor and really raises respect that he can take on so many different types of roles and parts. Ever so engaging and haunting, a very well put together film. With supporting roles to help really show how good it all is.