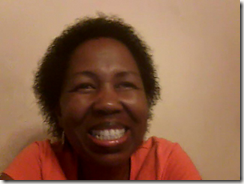 Today this beautiful smile entered my life again! This is Keneilwe Mohlabane.  Her name: 'Keneilwe' means "to be given" truly she is one who lives up to her name. Keneilwe is my friend and confidante from South Africa, who now lives in the United Kingdom.
She gives from her soul and heart. She brings joy to everyone who meets her. The first time I met her, it was if I knew her from some place else. She knew me too. It makes me wonder if we have ever lived before, and the people whose paths we run across again are really people we knew in heaven, and God just erased our memories for a short time and we meet again.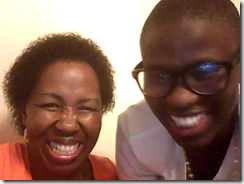 This is her son Obakeng, who helped us get the technology together.  He was truly a God send! It was so nice to hear them call me Nthabiseng – my African name. I was crowned that name several years ago, when a young girl named Ama who was seventeen, named me because she thought my personality spoke Happiness. Nthabiseng means "Make me Happy." Keneilwe calls me Nthabi. Interesting.. how Keneilwe's use of the first part of my name sounds like a command: "Make me… " How intriguing God sends me half across the world at a time where I am feeling my lowest, to being me such joy and add such meaning and purpose to my life; and gives me a name that means "Make me". Only God.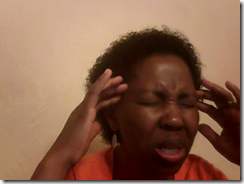 One thing Keneilwe and I know how to  do – even from what brought us together – is PRAY. When we pray, miracles happen! Truly for our destinies to meet across many waters  and for us to come together, by aman brave enough to 'take the risk', ( my friend Karabo Molefe)  –  and inviteme come to Kuma, South Africa – God used the powerful vehicle of prayer to show how powerful He really is. One thing I love to see is: GOD MOVE. For God to accomplish this, is a miracle. If you only knew how devastating it was years ago to get on the phone only to talk for two minutes, and it be fifteen dollars, and  it was time to go! Now we can talk and SEE each other and it's truly FOR FREE!! via Skype!  Amen!
I am ever so happy because  Keneilwe came on a wing and a prayer. For several years I prayed God would allow us to find an easy way to talk, but only today, has God done it. Must be the time and season for our lives to once again intertwine. Last week I prayed for my PURPOSE to flourish. A week later, I am sitting and talking to a woman I met eight years ago  who helped me fulfill my purpose and now we can talk frequently! While there we were teaching and equipping youth in South Africa together about pursuing their DREAMS. Selah.
 I am so willing to dream again. I can only imagine what God will do again!
Thanks Lord, you made my day today!
You Made Me Happy!  (smile)
 Check out some of keneilwe & I working together by clicking  here.