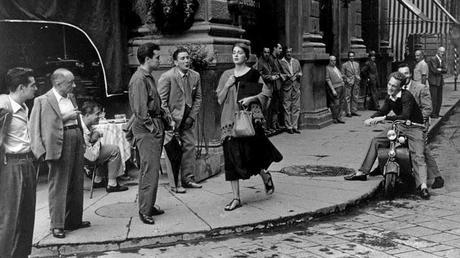 Ruth Orkin
"I'm totally contained. I'm self-assured. I own the street. I'm walking in total confidence. I'm not in the least flustered or bothered or apprehensive." That's what Ninalee Craig says. Although most would say her eyes betray a fear. But Ninalee Craig should know - 60 years ago she was known as Jinx Allen, the subject for Ruth Orkin's
An American Girl in Italy.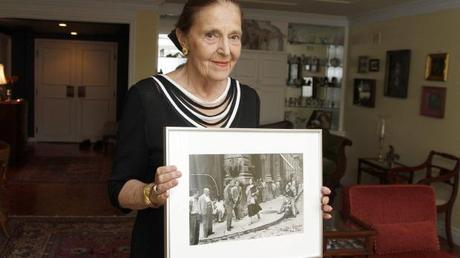 Fernando Morales for the Globe and Mail
Ninalee Allen now lives in Toronto. In a recent Globe and Mail article she relays her feelings about Italy and her feelings towards the picture.
The Stephen Bulger Gallery in Toronto is presenting an exhibition of Ruth Orkin's work. Visitors can study Orkin's contact sheets and she how the Jinx Allen image fits in with other images of the celebrated American girl shopping, haggling, laughing about her oversized lira, and riding side-saddle on a scooter. Jinx Allen ran the gauntlet twice past the 15 mostly unemployed Italian men on August 22, 1951 to achieve the picture.
The exhibition, Ruth Orkin, American Girl in Italy- 60th Anniversary is at the Stephen Bulger Gallery, 1026 Queen Street W., Toronto, until Saturday at 6 pm, August 26th.  I'd better hop on my scooter and get going!
with files from John Allemang/The Globe and Mail.