Never in a million years did I think I would ever do a post on swimwear and include a picture of me. NO CHANCE! But, low and 
behold
 I've gone and done just that. 
I was asked my
ECO SWIM BY AQUA GREEN
, a fourth generation US business that makes the only "green" swimsuits on the market and whose motto is "reduce your carbon footprint in the sand" to review their summer 2012 line. 
That's right! A swimsuit made from recycled materials!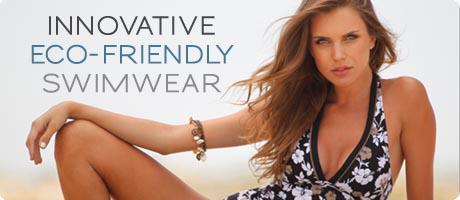 I was 
hesitant
 at first because it's been about six years since I have worn a bathing suit (it's true!) but after seeing their stylish choices and being intrigued by their environmentally friendly products I thought I would go for it. Besides, Little M has been asking me to take him swimming and now that I've lost 12 lbs with Medifast I a m feeling way more confident. 
I wanted something cute with a retro feel. I chose the
Classic Sweetheart 
one piece
 and the fit is absolutely perfect. It hugs you in just the right places and it gives your bust a sexy yet comfy boost without the fear of slipping out. 
I didn't feel self conscious at the pool and the pleats in the front mean I don't have to suck in my tummy all of the time. Even the Mr. said it was the best swim suit he had ever seen me wear. And to to think this gorgeous swimsuit is made from 
recycled
 plastics!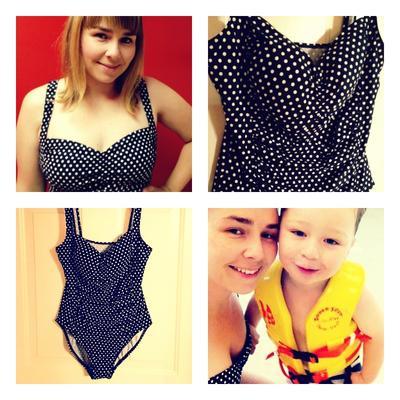 I had a quick chat with 
Sandra Davidoff, Eco Swim's Director of Corporate PR and I asked her a few
questions about the line and to make sure I got the green side of things right!
VBM: 
What exactly is "sustainable swimwear"?
ECO SWIM: Launching the first commercially viable fashion collection of swimsuits 
comes with a huge responsibility.  We embrace sustainability in every 
aspect of the garment.  The fabrics used are made from certified post 
consumer and recycled components, as are the elastics and bra cups.
W

e are made in the USA, which reduces the use of fossil fuels up to 

96.9%.*

All linings are made of recycled fabric derived from post consumer waste, 

such as recycled water bottles and plastic bags.

All zippers are made from recycled materials, grommets and snaps are 

recyclable and drawstrings are organic cotton.

All bra cups are made from Eco Cell foam, a biodegradable material made 

from plant oils and recycled materials.
VBM:
So I'm wearing water bottles and plastic bags?! Wow, I would never know by the feel of it. So if you could tell me your mission statement in one 
sentence
, what would it be?
ECO SWIM: Simply stated, 

our goal is to provide garments that look good, feel good and are good for the environment…that's why we say: ECO SWIM BY AQUA GREEN Go Green, Go Gorgeous!
VBM: Absolutely! Green & Gorgeous, works for me!

So what the swimwear trends for this summer?
ECO SWIM: Lots of color! 
 From soft pastels to sunburst brights, the 
season will be awash with vibrancy!  Warm tone chocolates to caramels, sea 
blues to vivid reds, burnt orange to sun kiss yellows in tribal prints,
prism prints, bold linear graphics, florals are so in…and of course, black 
and white prints are so fresh again.  Baby pastels make a comeback for 
those feminine florals that are the rage.  Play on animal prints…still so 
strong. 
  Details such as bows, belts, drawstrings 
are strong and as are retro swim dresses.
VBM: I love my black and white polka dot 
one piece
, 

definitely

 a retro feel and perfect for my body type. So lastly, which one is your favorite?
ECO SWIM:
I 
adore the flirty bow dress and best yet, our 
consumers agree…it's one of our top retailing styles!  I also love our 
polka dot ring 2pc as well as our tiered solid halter bikini.
Check out a selection of the line in this video
A few retailers where you can purchase Eco Swim online:
Belk
Macys
Nordstrom
Lord & Taylor
Everything But Water
Dillards
Prices range from $45 - $100.
Find Eco Swim on 
Facebook
 and 
Twitter
So are you swim suit ready yet??
*I was not compensated for this post, but was sent the swimsuit for review*