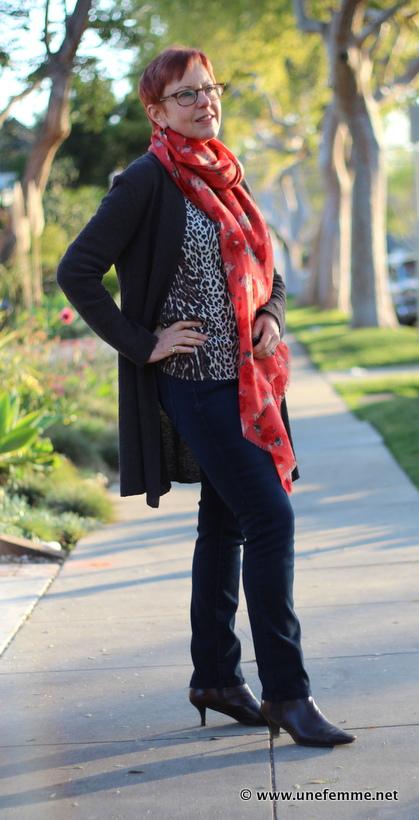 That's what the voices were telling me as I was getting dressed to go out with
le monsieur
for sushi a few nights ago.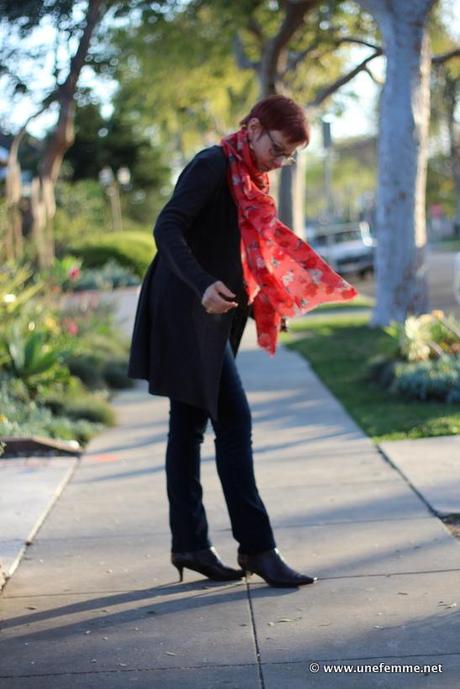 Despite the funky pose (mis-calculated the shutter delay) this is one of my favorite outfit pictures ever; I love how the scarf caught the light.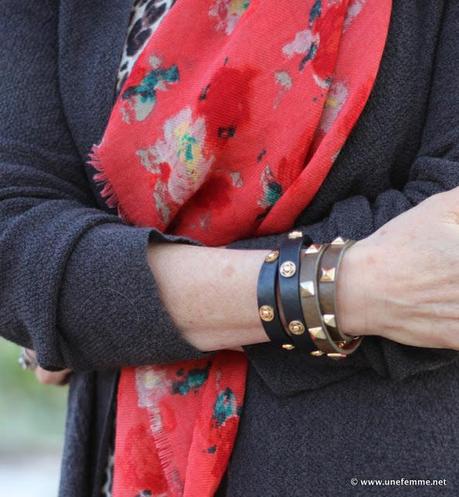 I started off the shoot with my favorite 
fleur-de-lis
pinky ring from Beladora II, but decided that something bolder and tougher was called for, so switched out for these leather bracelets.
Here comes Lars again to photobomb.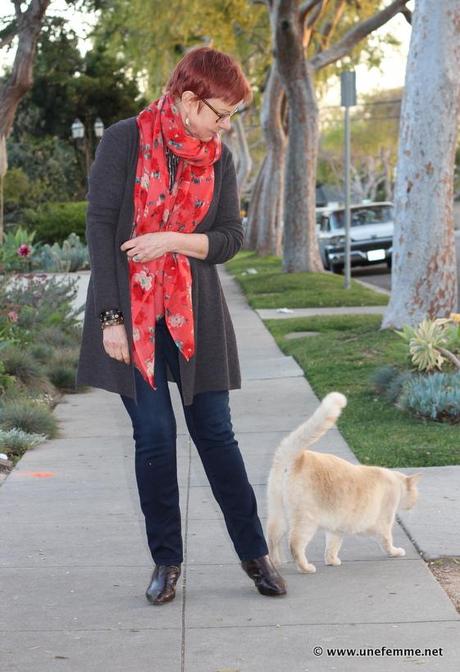 Showing the camera his best side...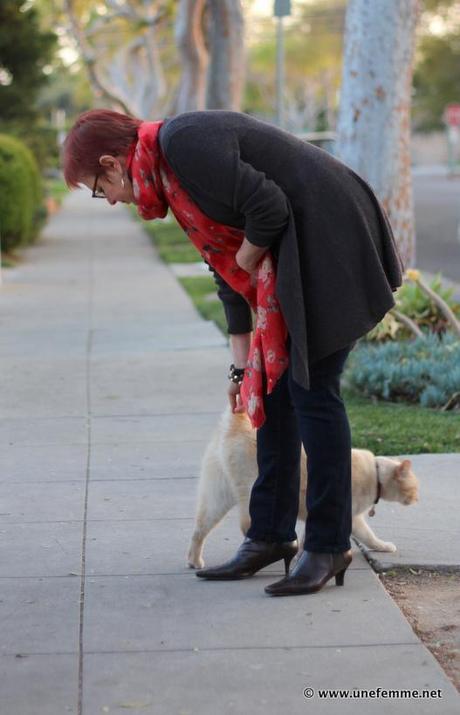 "Oh alright, here's a back scratch." 
I am powerless over the kittehs.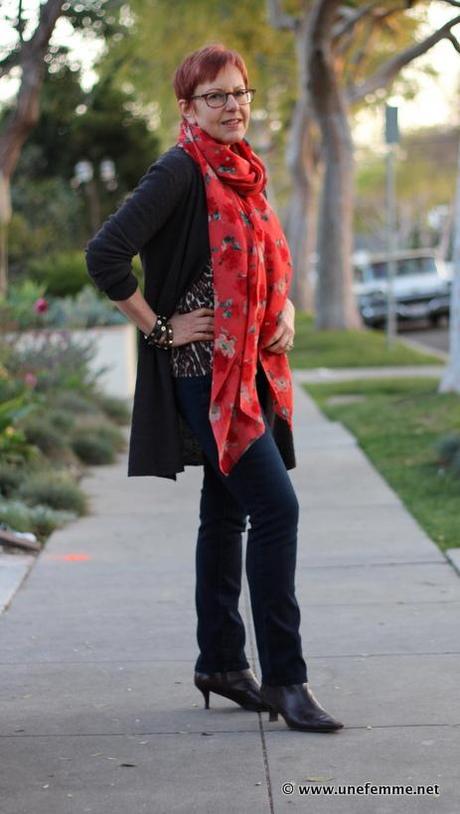 Head to toe... Earrings: Pearl Paradise, here. I absolutely adore these and wear them frequently. Big stonking keshis in a color that glows like sunset. Scarf: J.Crew. Here's something
similar in Liberty print
. Cardigan: Eileen Fisher, few years old.  
Similar shape
. Sweater: J.Crew Leopard Tippi from last year.  Other Tippi sweaters here (print) and here (solid). Leather Wrap Bracelets: Stella and Dot, here and here. Jeans: NYDJ "Jade" leggings, here. (Available in Petite and Plus too.) Boots: Stuart Weitzman, several years old.  Similar shape.
We started off the evening with a drink at the historic
Culver Hotel,
 where the cast of Wizard of Oz stayed during filming, and where the actors playing the Munchkins allegedly had orgies and trashed hotel rooms! I hadn't been there in years, and really enjoyed the ambience in the lobby bar.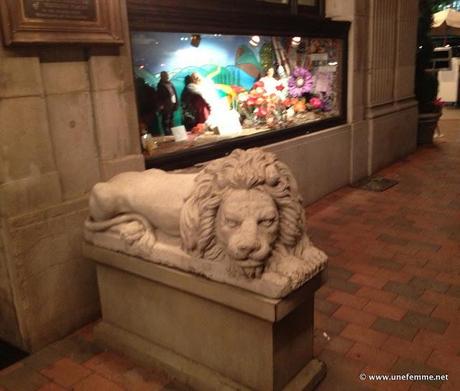 That lighted case in the background is a wonderfully cheesy Wizard of Oz diorama.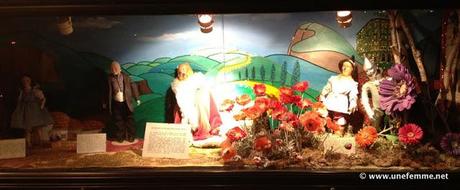 Our favorite local spot for sushi is
K-Zo
. We grab a seat at the sushi bar and go with chef's recommendations for the night.  This has led us to become rather bold with our sushi choices too!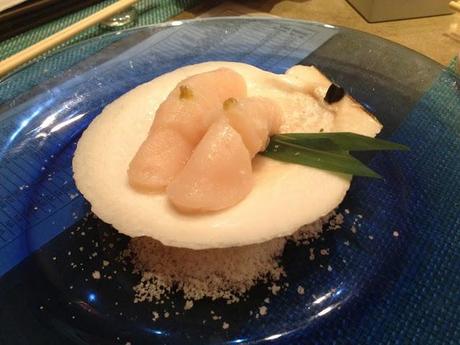 Live scallop sushi...wonderfully delicate texture and flavor. This has become a favorite of ours.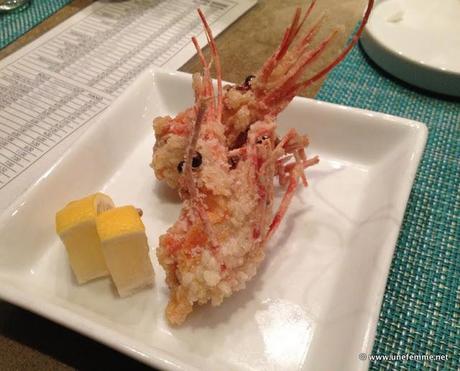 These were delicious washed down with cold sake!
Are there any fun spots near you with a notorious past?
Disclosure: some links in this post may generate commissions for www.unefemme.net.
~ All original content property of http://www.unefemme.net This work is licensed under a Creative Commons Attribution-NonCommercial 3.0 United States License.