Although rye bread inherently has gluten, since rye is a gluten-containing grain, we recreate it's key flavors with this Gluten-Free Rye Bread! This rye-style bread is made with buckwheat flour, caraway seeds, and cocoa powder to mimic the flavors and textures you love - all without the gluten.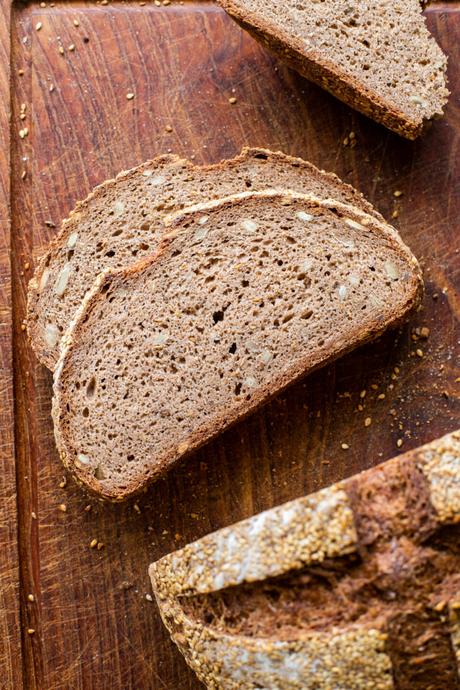 Hello to all my rye bread lovers!! When I started making gluten-free sourdough bread back in 2020 and sharing it with my gluten-free family members, my dad immediately started making one request, over and over again: gluten-free rye bread. After explaining to him that rye bread is inherently not gluten-free, since rye is a grain that contains gluten, I told him I would try to create a rye-style gluten-free bread that would satisfy the same cravings.
My great grandparents owned a bakery in New York that was famous for their rye bread when my grandpa was growing up, so I knew I had to nail this recipe. It's in my BLOOD! I had to get approval from grandpa, and this recipe has gotten two VERY big thumbs up from him. My dad and grandpa are requesting loaves of this gluten-free rye weekly!
This recipe has been in the works for over two years and has undergone a number of iterations. I hope you love it as much as my family does. If you're missing rye bread too, I hope it satisfies all your cravings.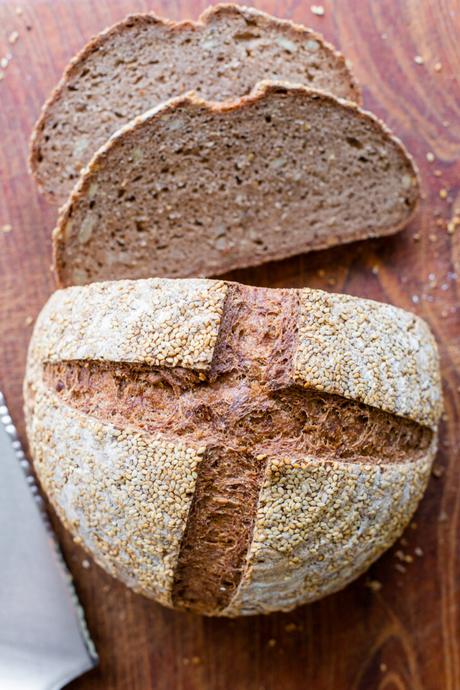 What makes this gluten-free "rye" bread look and taste like rye bread?
This was the key. It needed to not just look like rye bread, with that rich, golden brown color, but it also needed to taste and feel like rye bread. These are the ingredients that get it done:
Date Syrup: this is my sweetener of choice for making rye bread. You can substitute maple syrup or cane sugar, but I prefer date syrup because it contributes to that darker color and adds a subtle flavor the rye loaf.
Cocoa Powder: this adds a bit of bitterness to the loaf, and contributes to the darker color. I've also experimented with using black cocoa powder when my grandpa requested a gluten-free black rye bread, and that works well too! The flavor isn't too different, but the color is dramatic.
Caraway Seeds: a must when you're making any kind of rye bread, gluten-free or not. Don't skip these - without it, it doesn't taste like rye!
Buckwheat Flour: rye bread has a nutty, earthy flavor that buckwheat helps to mimic rather well. I've used my gluten-free bread flour blend for the rye bread too. That also works, but using buckwheat if you have it on hand is one of my favorite iterations of this bread.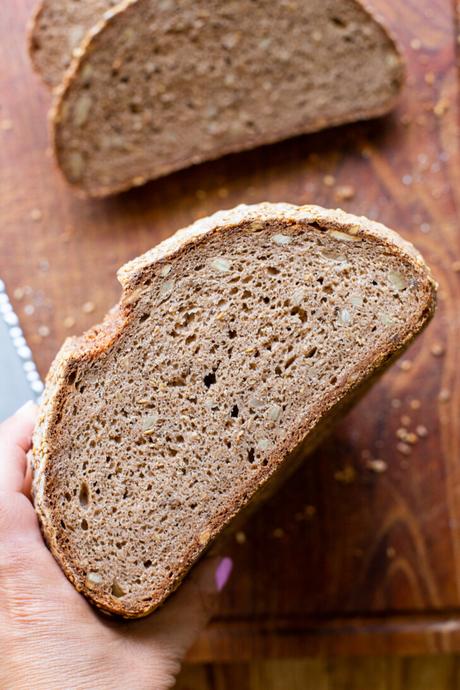 How to make gluten-free rye bread
Make the psyllium gel by combining the psyllium husk, date syrup (or other sweetener) and hot water. Whisk to combine, and let it set for a few minutes while you mix up the dry ingredients. It will thicken and gel during this time.
Whisk together all of the dry ingredients in the bowl of a large mixing bowl or stand mixer.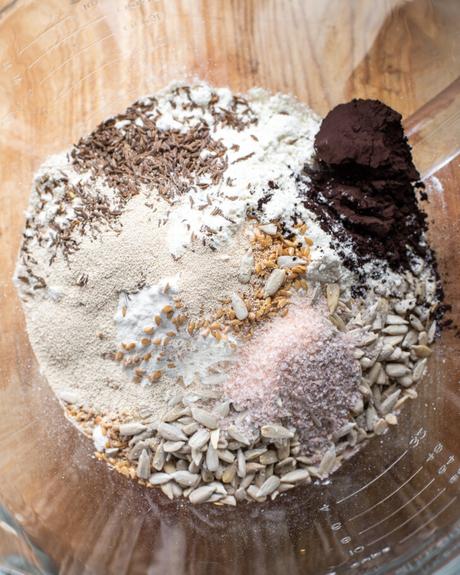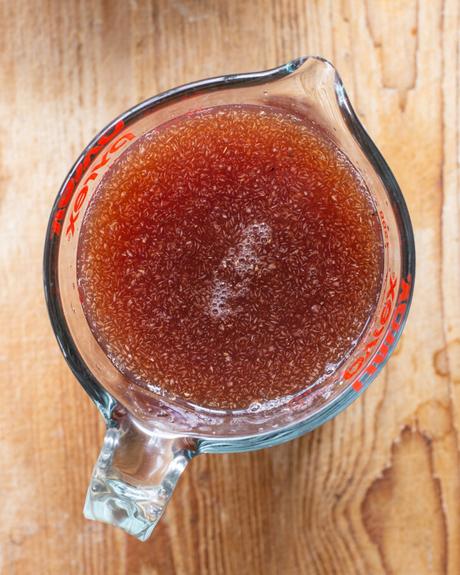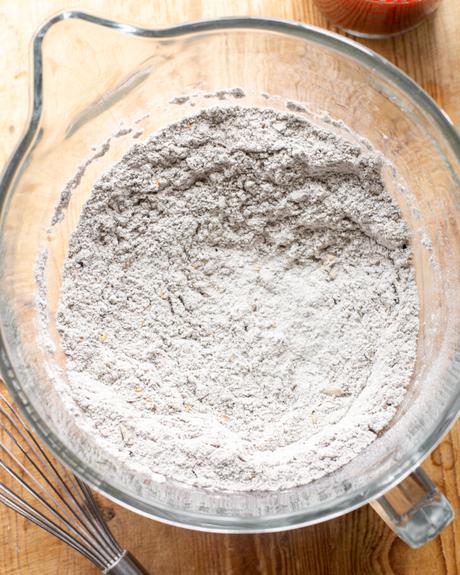 Add the wet to the dry ingredients and use a dough hook or a danish dough whisk to mix it together well, until all the dry ingredients are incorporated and hydrated.
Knead the dough just enough to shape it into a dough round. Add sesame seeds or other seeds to garnish at this time, if desired. Place it in a floured banneton or cloth-lined bowl to rise.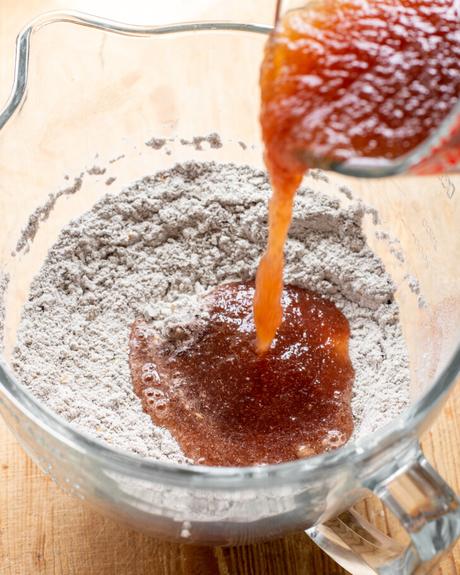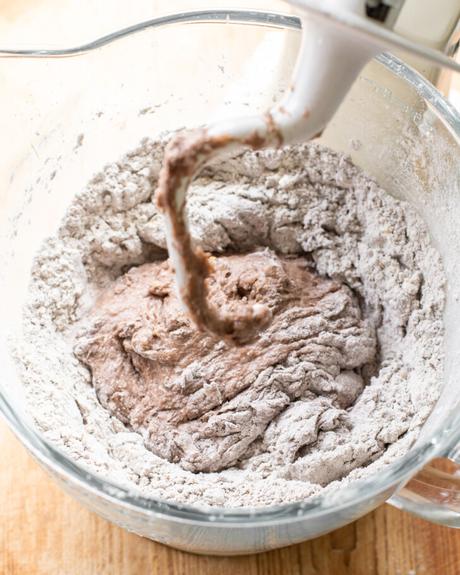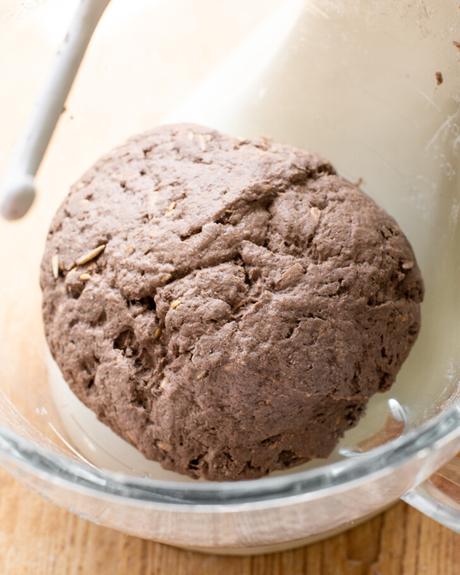 Rise in a warm place for one hour, or until the dough feels puffy and light.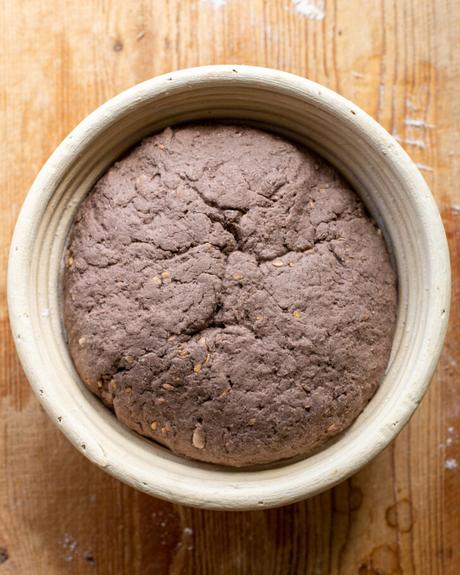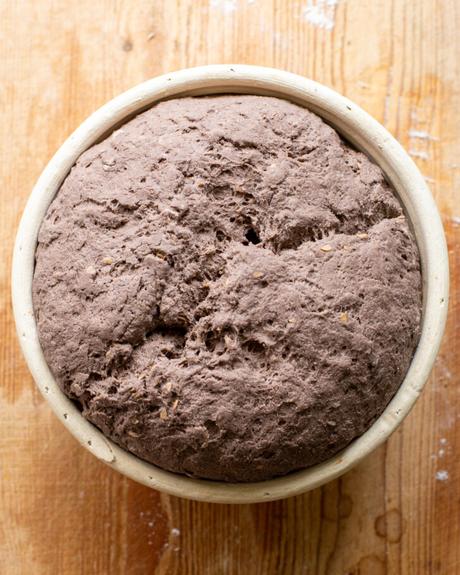 Bake in the preheated over with a lid on for 1 hour, and then remove the lid to bake for the remaining 20-ish minutes, until golden brown.
Cool completely before cutting into the loaf! This is super important - cutting in too early will release steam and make for a gummy loaf. Slice and enjoy!!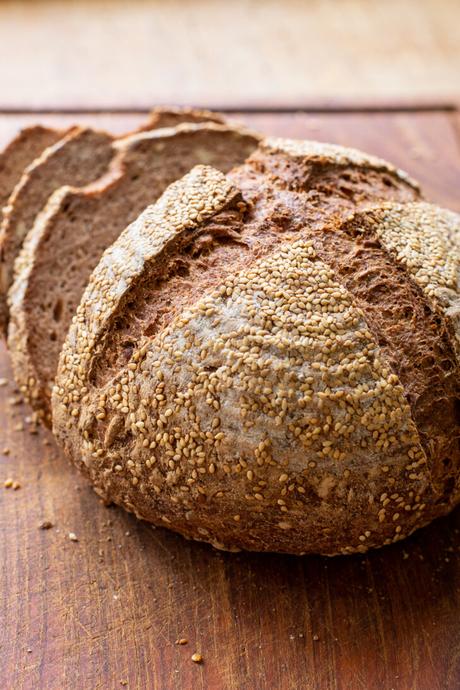 Can I bake this bread in a loaf pan?
Absolutely! I often make this bread in a loaf pan when I know it will be used for sandwiches.
This 8.5″ x 4.5″ bread pan is my favorite for baking bread loaves in.
To bake your gluten-free rye bread in a loaf pan, follow the same instructions up until you're placing the dough in the banneton. Instead, shape the dough to a longer oval shape and place the dough seam side down in the metal loaf pan you'll be baking in. Metal will help conduct the heat more efficiently to help your bread bake through - I don't recommend using another material.
Cover with a tea towel or plastic wrap, and allow the dough to rise in the pan until puffy, about an hour. When you're ready to bake, bake for an hour. Check on the loaf and if it's firm enough, remove it from the pan and bake directly on the oven racks for another 20 minutes or so, until golden all around and hollow-sounding when you knock on the sides or bottom.
Since you're baking without steam when baking a loaf, the crust will be a bit crustier. To prevent this, you can brush the top with oil before and after baking, and/or wrap the warm loaf in a towel as it cools to help soften the crust with the bread's own steam.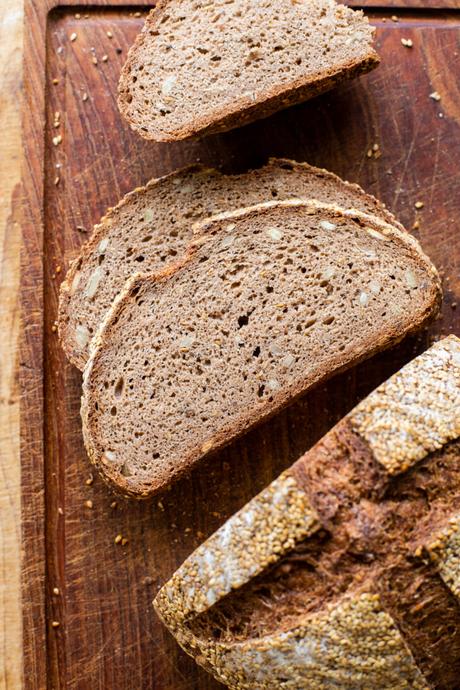 Storing gluten-free rye bread
To store this bread, I recommend keeping it in a bread bag or box for 2 to 3 days at room temperature. It's best to use it fresh if you plan on eating it untoasted, for things like sandwiches.
You can also slice the loaf, and keep it in a plastic bag in the refrigerator for up to a week, or in the freezer for up to 2 months.
Place your slices into the toaster to reheat whenever you're ready to enjoy them!
More gluten-free bread recipes...