It's BBQ season.  Cookouts and dinners with friends abound, and usually everyone ends up bringing a dish.  These days since I'm gluten free, one thing I learned early on - if I think I'm going to want dessert, I'd better bring some myself regardless if someone else is or not.   This gluten free apple cake is a new addition to my repertoire.  I adapted if from an old apple cake recipe I had in my file box.  One of the great things about this cake is that it is not made from a mix.  People are always shocked to find out it's not only gluten free, but has buckwheat flour in it too!  You'd never know.  It's definitely a winner!
  Enjoy!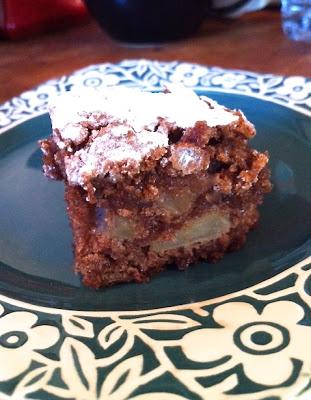 1 1/4 cup raw sugar (or less)2 eggs1/2 cup oil1 teaspoon vanilla3 cups peeled, diced, raw apple1 cup all purpose gluten free flour mix (I use the mix from William Sonoma)3/4 cup buckwheat flour 1/2 teaspoon sea salt1 teaspoon baking soda1/2 teaspoon cinnamon
Preheat oven to 350.  Beat sugar and eggs together until thick and light.  Beat in oil and vanilla, stir in apples.  Sift flours, salt, cinnamon, and fold intothe apple mixture.  Pour into oiled and floured 9 inch square baking pan.Bake 45 minutes or until done. (time may be less).Cool and sift powdered sugar over the top before serving.Can also be served with ice cream. This also makes great muffins.

Follow me on Pinterest!