We're kicking off the second full week of this Glenmo mega vertical with our second dusty: Glenmorangie Traditional 100 Proof. This limited edition came out around 2003 and made a bit of commotion when it did. Though reading through some of the internet archives that commotion seems to be a bit divided. This kinda shocks me because if the old Glenmo 10 is any indication a, nearly, cask strength version should be awesome.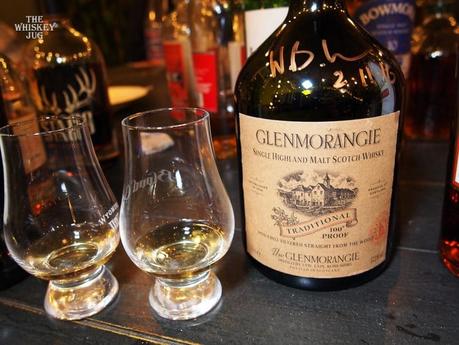 Compared to the Glenmo Original, there is nothing from a production point that makes this unique. It's all Glenmo distillate aged in ex-Bourbon casks. What makes this Traditional 100 Proof unique is the cask selection, non-chill filtering and being bottled at 57.2%. Nothing crazy or different about its production. Though what is kinda crazy is that 2003 was almost 20 years ago… WTF. Where'd the time go?
I feel old, let's get to drinkin'.
---
Glenmorangie Traditional 100 Proof – Details and Tasting Notes
Whiskey Details
Non-Chill Filtered | Natural Color
Style: Single Malt (Scotch)
Region: Highlands, Scotland
Distiller: Glenmorangie
Mash Bill: 100% Malted Barley
Cask: ex-Bourbon
Age: 10 Years
ABV: 57.2% (traditional, British 100 Proof)
Glenmorangie Traditional 100 Price: NA – Auction, Specialty Store or Private Seller (originally $100)
Related Whiskey
Glenmorangie The Original 10 years
X by Glenmorangie
Glenmorangie Nectar D' Or 12 Years
Glenmorangie Lasanta 12 Years
Glenmorangie Quinta Ruban 14 Years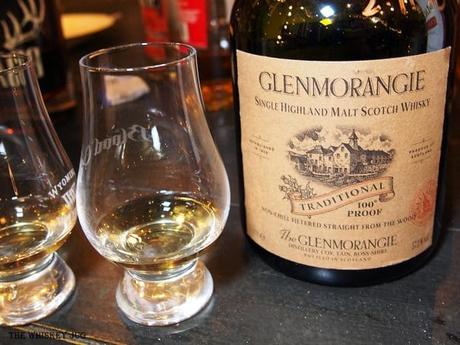 "This handcrafted Glenmorangie malt whisky is matured for 10 years and come straight from casks of mountain oak at its traditional strength without any chill filtering." – Glenmorangie
Glenmorangie Traditional 100 Proof Tasting Notes
EYE
Gold
NOSE
Complex dried orchard fruit, honey, toffee, cocoa, toasted bread, citrus peels, waxy vanilla fondant and lighter notes of coconut, nuts and baking spice.
I could sniff this all night, the complex fruit brings out waves of apricots, apples, pears and more. It love it.
PALATE
Complex dried orchard fruit, honey, sultanas, coconut, vanilla cupcakes, oak, toffee and bit fo banana chips and baking spice with a slight earthiness.
This has a heaviness to it that rolls through with a noticeable oak profile.
FINISH
Med-Long -> Fruit and malty graham takes its time fading out to a honied fruit note.
BALANCE, BODY and FEEL
Well balanced, medium-full body and a light buttery feel.
---
Glenmorangie Traditional 100 Proof – Overall Thoughts and Score
Comparing this to the dusty Glenmorangie 10 and the current Glenmorangie Original 10… I'd take this every single time. This is the best, purely, ex-Bourbon Glenmorangie I've had and I include the Astar in that statement. This is Glenmorangie.
This is elegance, this is beauty, this is Highland fruity deliciousness and I wish I could go back to 2003 and buy a couple of bottles. The Glenmorangie Traditional 100 is a whisky worth hunting down at least of taste of if you're a fan. Big thanks to Hodas for bringing this to a tasting and the sample.
SCORE: 4/5 (good, definitely recommend ~ B+ | 87-89)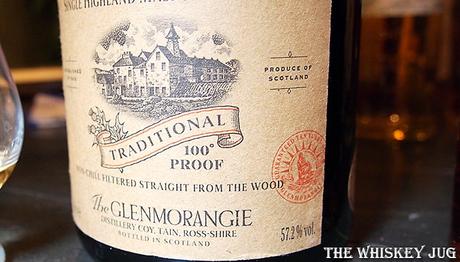 Glenmorangie Traditional 100 Review
$NA
Overall
4.1
Nose

(4)

Palate

(4.5)

Finish

(4)

BBF

(4)
Sending
User Review
0

(

0

votes)
Comments Rating
0

(

0

reviews)