Like everything in the core range, Glenmorangie Quinta Ruban 14 Years starts out as the Glenmo 10yo but amps up the richness and depth by getting an extra 4 years of aging in ex-Port casks. This is the oldest, and longest finished, of the core range.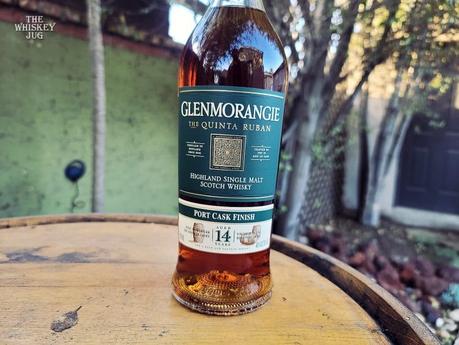 If you've spent any time reading this blog you know I stack series reviews like this by either moving from youngest to oldest or by least to most favorite. In this case it's both. Even when it was a 12-year-old whisky it was my favorite of the line, but now that the port finishing has officially doubled in length… oh yeah.
I posted the review to the Quinta Ruban 12 earlier today so we can do a comparison, though you probably already know where I'm going with this. But, to make sure there's no ambiguity, let's get to drinking and slide into this port-drenched Scotch review.
---
Glenmorangie Quinta Ruban 14 Years – Details and Tasting Notes
Whiskey Details
Natural Color
Style: Single Malt (Scotch)
Region: Highlands, Scotland
Distiller: Glenmorangie
Mash Bill: 100% Malted Barley
Cask: ex-Bourbon
Age: 14 Years
ABV: 46%
Glenmorangie Quinta Ruban 14 Years Price: $55
Related Whiskey
Glenmorangie The Original 10 years
Glenmorangie Lasanta
Glenmorangie Nectar D' Or
Glenmorangie Quinta Ruban 12 Years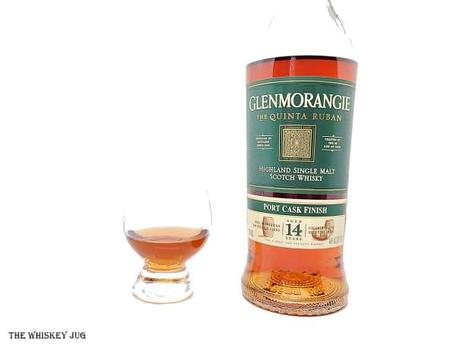 "Quinta Ruban is a whisky journey into the wild – a dark and delectable forest where the wind whistles with gusts of peppermint and dark swirls of chocolate can happen at any moment." – Glenmorangie
Glenmorangie Quinta Ruban 14 Years Tasting Notes
EYE
Ruby
NOSE
Dried dark fruit, port winey sweetness, malt vanilla citrus, marzipan, candied pecans and a touch of baking spice and oak.
Deep, velvety and sweet with a touch of earthiness that keeps it balanced
PALATE
Dried dark fruit, leather, port wine sweetness, candied pecans, molasses cookies, cocoa and some nutty notes with hints of baking spice, sweet tobacco and sulfur.
Much earthier
FINISH
Medium-long -> Sticky dried dark fruit, leather, oak, candied nuts fade to spice and citrus zested cocoa.
BALANCE, BODY and FEEL
Perfectly balanced, med-full body, soft and velvety
---
Glenmorangie Quinta Ruban 14 Years – Overall Thoughts and Score
Dark, sweet and luxurious, this is a true delight for the senses. Quinta Ruban is hands-down my favorite of the Glenmorangie core line up and solidifying the 4 year finishing has done nothing but deepen the profile and bring more nuance to the whisky.
Sitting with the Quinta Ruban 12 and 14 side-by-side shows subtle, but significant differences. The aroma on the 12 is a bit lighter and a bit sharper compared to the 14. The palate is slightly less fruity and less earthy and again comes through a bit sharper than the 14. Though the finish and the body of the two are where the 12 and 14 diverge the most with the 14 having a longer, more complex finish, fuller body and a more velvety feel.
The 12 was a whisky, I've been using it for almost a decade in tastings to introduce people to Glenmorangie and it's converted more than a few people into new fans. But most importantly it's a GREAT example of port done well. Glenmorangie Quinta Ruban 14 Years is the port-finished Scotch all others are judged by.
SCORE: 4.5/5 (very good, highly recommended ~ A- | 90-93)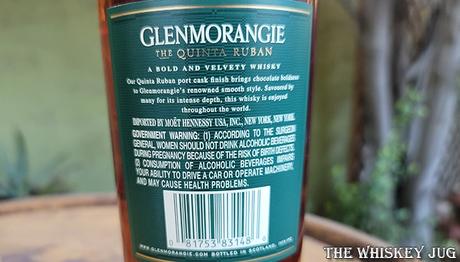 Glenmorangie Quinta Ruban 14 Years Review
$55
Overall
4.5
Nose

(4.5)

Palate

(4.5)

Finish

(4.5)

BBF

(4.5)
Sending
User Review
0

(

0

votes)
Comments Rating
0

(

0

reviews)