I remember the first time I tried the Glenmorangie Nectar D'Or 12 Years. I was at a bar in Hollywood with a client for the day job. I ordered a Glenmorangie Original because it was the first bottle I saw on the back bar. But what the waiter brought me didn't taste like what I was expecting.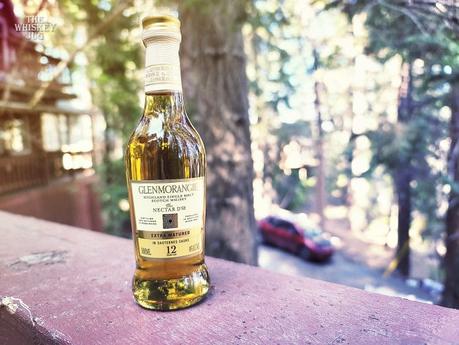 After a second sip to make sure my senses hadn't gone wrong for a minute, I asked the waiter what the bartender poured me because it wasn't the Glenmo 10. It was a bit richer and had a different white-grape, pear and peachy sweetness to it. When the waiter returned he said the bartender misheard him and poured me the Nectar instead. I was delighted.
He said I'd only be charged for the 10 and offered to replace it. I told him I'd be happy if they kept making that mistake for the rest fo the night. Fast forward 9 years and we find ourselves here; finally sitting down for a formal review.
Now, let's get to drinkin'!
---
Glenmorangie Nectar D'Or 12 Years – Details and Tasting Notes
Whiskey Details
Natural Color
Style: Single Malt (Scotch)
Region: Highlands, Scotland
Distiller: Glenmorangie
Mash Bill: 100% Malted Barley
Cask: ex-Bourbon
Age: 10 Years
ABV: 46%
Glenmorangie Nectar D'Or 12 Years Price: $70
Related Whiskey
Glenmorangie Lasanta 12 Years
Glenmorangie The Original 10 Years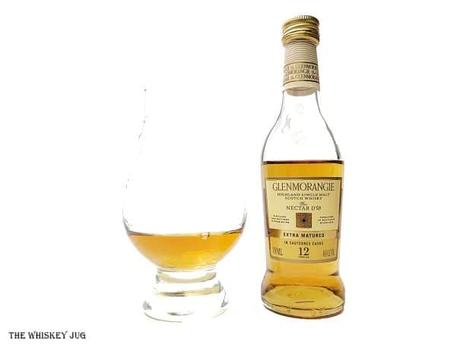 "To create it, we take the delicate, fruity spirit of our giraffe-high stills and age it in American oak bourbon casks along with casks that once held Sauternes sweet white wine." – Glenmorangie
Glenmorangie Nectar D'Or 12 Years Tasting Notes
EYE
Amber
NOSE
Honey, malt, sultanas, dried apples, vanilla cake, bananas, light melon rind, wax and spice.
The aroma is nice. It's pleasant, it's sweet, it's interesting, but things really kick off with this one with what comes next.
PALATE
Honey, malt, cocoa, cinnamon, dried apples, banana, vanilla, sweet oat cookies, pears, white grapes, peaches and butter.
Mmmm. The palate is richer and more expressive than aroma. It carries a depth that keeps you coming back for more.
FINISH
Med -long -> Malt, vanilla, toffee, fruit and cocoa with a touch of oak on the slow fade.
BALANCE, BODY and FEEL
Great balance, med-full body and a lighty oily feel.
---
Glenmorangie Nectar D'Or 12 Years – Overall Thoughts and Score
A buttery, fruity and gorgeous golden whisky layered with decadent pastry notes, honey for days, soft dried orchard with an underlying tone of sultanas and a touch of tropical fruit. It's delicious, I would happily drink it any day.
Honestly, the only thing that would make this whisky more attractive would be if the aroma kept pace with the palate. If it had the same grip the palate carries, the Glenmorangie Nectar D'Or might give the Quinta Ruban a run as my favorite of the core. As-is though, it's tasty. Darn tasty.
SCORE: 3.5/5 (tasty, worth checking out ~ B | 83-86)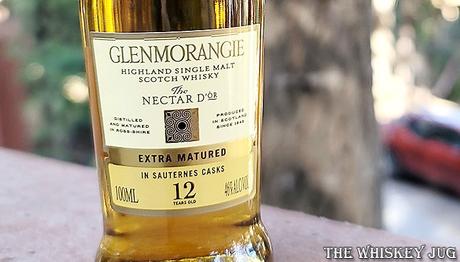 Glenmorangie Nectar D'Or 12 Years Review
$70
Overall
3.9
Nose

(3.5)

Palate

(4)

Finish

(4)

BBF

(4)
Sending
User Review
0

(

0

votes)
Comments Rating
0

(

0

reviews)