I first tried the Glenmorangie Malaga Cask Finish 12 Years at a blind tasting. Post-reveal, I immediately opened up the K&L site and ordered a bottle. This limited edition was one of my favorites from that night and stood out amongst all of the other ex-Bourbon and finished Glenmos on the table. It was the one I came back to at the end of the night.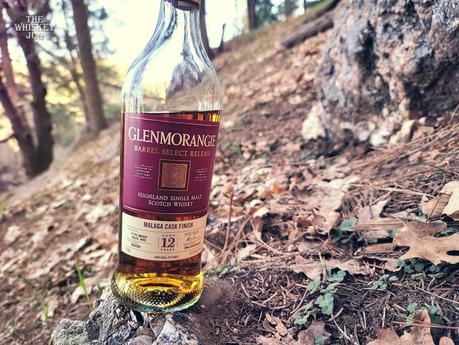 Like all of the extra-aged Core releases and many of the Private Editions, this whisky started as The Original 10 and then received a 2-year finishing in ex-Malaga Dulce casks. The experiment itself obviously turned out well, but this release exemplifies one of the things I truly love about Glenmorangie: commitment.
In a world where "finishing" tends to run 3-6 months, and one year is seen as luxurious, Glenmorangie commits the time and patience of regularly finishing for two to four years. This gives the original spirit enough time to soak deep into the wood and extract a thick layer of flavor.
This dedication is commendable and I'm excited to dig deeper into what the Malaga casks have done to the Glenmorangie spirit. So let's get to drinkin' and see what this whisky is all about.
---
Glenmorangie Malaga Cask Finish 12 Years – Details and Tasting Notes
Whiskey Details
Non-Chill Filtered | Natural Color
Style: Single Malt (Scotch)
Region: Highlands, Scotland
Distiller: Glenmorangie
Mash Bill: 100% Malted Barley
Cask: ex-Bourbon, ex-Malaga
Age: 12 Years
ABV: 47.3%
Glenmorangie Malaga Cask Finish 12 Years Price: $80
Related Whiskey
Glenmorangie The Original 10 years
X by Glenmorangie
Glenmorangie Nectar D' Or 12 Years
Glenmorangie Lasanta 12 Years
Glenmorangie Quinta Ruban 14 Years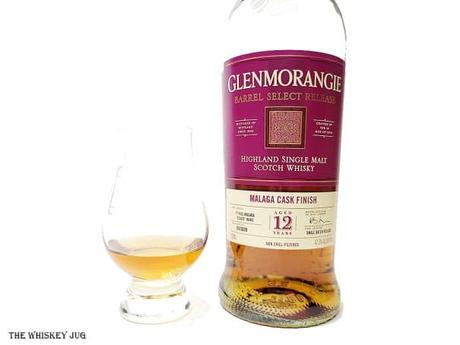 "A limited-edition 12-year-old single malt, matured in ex-bourbon casks and finished in casks that previously held one of the rarest fortified wines in the world – Malaga Dulce" – Glenmorangie
Glenmorangie Malaga Cask Finish 12 Years Tasting Notes
EYE
Amber
NOSE
Fruity-taffy sweet, heavy malt, honied dried fruits, sultanas, raisny-pruny and a light touch of metallic medicinal notes and dry oakiness.
Starts with a candy-style sweetness, but as it opens it morphs into more of a darkly fruity/raisiny-pruny style of sweetness. Lovely.
PALATE
Raisny-pruny, dried orchard fruit, copper, toasted graham, dark honey, blackberry taffy, vanilla frosting and a bit of oak and nuts.
Palate switches things around from the aroma and starts fruity sweet and slowly turns to more candy sweet.
FINISH
Medium -> Candy sweet, fruity sweet, malty sweet on a slow drawl to a soft oakiness.
BALANCE, BODY and FEEL
Good, medium-full, soft easy.
---
Glenmorangie Malaga Cask Finish 12 Years – Overall Thoughts and Score
Wow, this is nice. There's a fullness to the whisky as it fills the senses and moves from aroma to palate to finish. Candy and fruity sweet profiles jocky for dominance with a subtle, dry, oakiness that weaves through giving it balance and structure.  This is a perfect sipping whisky. So much so that the bottle is currently empty, the photos were taken back in October.
It does start a little tight, but give it a bit of air, or even a couple drops of water if you're feeling like it, and it opens up to be a soft velvety whisky that flows warmly through the senses. Glenmorangie Malaga Cask Finish 12 Years is a tasty whisky and one to keep an eye out for if you're looking for something tasty and different to have on the shelf.
SCORE: 4/5 (good, definitely recommend ~ B+ | 87-89)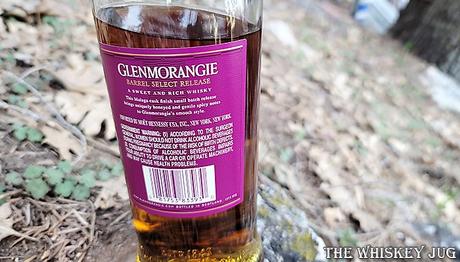 Glenmorangie Malaga Cask 12 Years Review
$80
Overall
3.6
Nose

(3.5)

Palate

(4)

Finish

(3.5)

BBF

(3.5)
Sending
User Review
0

(

0

votes)
Comments Rating
0

(

0

reviews)