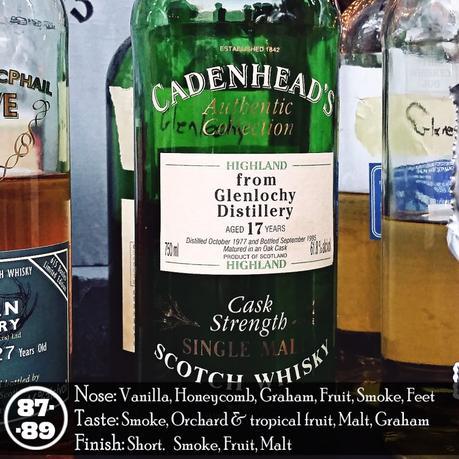 Glenlochy 17 year Cadenhead's Authentic comes to us from the deceased Glenlochy Distillery. Founded in 1898 and closed 85 years later (1983), the distillery was actually only operational for about 69 of those 85 years. Like many Scottish distilleries it experienced several closures over the years, but unlike many there were no notable fires, bombings or anything of the sort that occurred. It lead a quite life while active and in death it continues that tradition with its buildings now serving as offices and apartments.
Glenlochy Distillery Timeline (via Malt Madness)
1898 – Opened
1919 – Closed
1924 – Re-opened
1926 – Closed again
1937 – Bought by Train & MacIntyre Ltd. and re-opened again
1953 – DCL / SMD bought Train & MacIntyre from National Distillers
1983 – Glenlochy closed for the final time
1992 – Pagoda and maltings sold to West Coast Inns and soon after the other buildings were covered to flats and offices.
Glenlochy 17 years Cadenhead's Authentic Info
Region: Highlands, Scotland
Distiller: Glenlochy (1898 – 1983)
Mashbill: 100% Malted Barley
Cask: "Oak Cask"
Age: 17 years (1977 – 1995)
ABV: 61.8%
Cask Strength | Non-Chill Filtered | Natural Color
Price: NA – Auction, private sale or specialty shop
Glenlochy 17 years Cadenhead's Authentic Review
EYE
So light it's almost clear
NOSE
This one smells a bit weird, but I find myself liking it. Starts off with some vanilla, honeycomb, graham and a mild fruit, which there's nothing weird about. However, as it opens up a bit of smoke comes through (still not weird) followed by some light notes of dirty feet and nail polish (weird). Sounds off, but as a whole it works together in a strange way with the sweet, sharp and earthy tones balancing each other out.
PALATE
Campfire smoke and a sweet orchard fruit comes through followed by light underlying notes of tropical fruit, malt, graham and baklava which add a bit of dimension and a touch of earthiness. That dirty feet and acetone character from the nose are nowhere to be found.
FINISH
Short and comprised of smoke, fruit and malt.
BALANCE, BODY & FEEL
Moderately well balanced with the palate being a bit sweet. Medium body and a texture that's a little rough due to it running on the hotter side of things.
OVERALL
The nose and palate confirmed what my eyes suspected about the Glenlochy 17 years Cadenhead's Authentic; the wood influence here is fairly light. I have no idea what kind of "Oak Cask" this was stored in, but if I had a guess I'd say it was a worn out bourbon barrel. Which, in this case, wasn't a terrible thing because the whisky still came out with a nice mix of aromas and flavors. All in all it's a fun and tasty whisky.
SCORE: 87-89/100 (range given since it was not tasted at home)