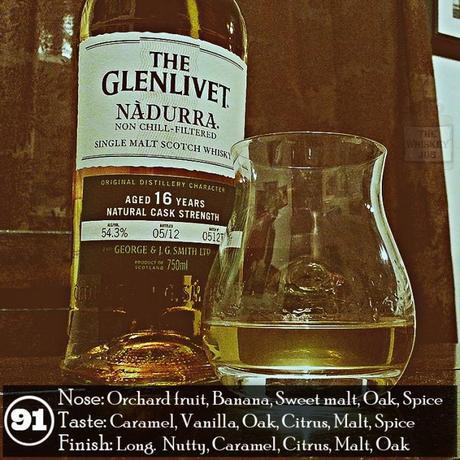 The first time I had Glenlivet Nadurra was at my farewell party when I left my job at a search agency and despite being one of many drinks that evening I could distinctly remember liking it. The second time I sipped on some Nadurra I was at a friends house and we drank it from shot glasses (though we were not shooting it) while playing board games and again it stood out amongst the 5 or so we were sipping on that night too. I now finally have a bottle to call my own and am damn happy I do.
The Glenlivet Nadurra is a non-chill filtered, no color added, cask strength beast whose name is derived from the gaelic word for Natural. Which is completely appropriate because If you visited the distillery in Scotland and had a dram straight from a 16 year old ex-bourbon barrel this is basically what you would be getting. Though one important difference between sipping straight from the barrel and what's in this bottle is that this is not a single cask. It's more like the Wild Turkey Rare Breed in that they still blend a bunch of barrels together (the youngest being 16 years), but they don't add any water to cut the proof in the final product. Hence it being cask strength.
Glenlivet Nadurra 16 Review
Batch:0512T
ABV: 54.3%
Price: $64
Non-chill filtered
Natural Color
Cask Strength
EYE
Honey
NOSE
Orchard fruit mixed with banana heavy tropical fruit, a sweet maltiness and some oak rise slowly, but with power. Some great notes of baking spices and toasted nuts appear after a few minutes and the oak became a bit stronger the longer it breathed and opened up.
TASTE
Upfront notes of caramel and vanilla mix with oak, citrus and malt. The fruitiness of the nose died down a bit on the palate, but it was still there and mixed well with the baking spices that showed up as it sat and opened up a bit.
BALANCE, BODY & FEEL
A nice delicate balance between the sweet and savory notes with the oak acting as a great earthy support. Full bodied and incredibly easy to drink without any dilution.
FINISH
Long and nutty with strong notes of caramel, citrus, malt and oak.
OVERALL
I really enjoyed this one and after a few minutes of breathing it began to really open up and began expressing more of the dessert and malt qualities. After about 10 minutes of the glass sitting in my hand it unfurled into a warm and lively whisky that was increadibly fun to drink even without any water, though a splash certainly does help.
SCORE: 91