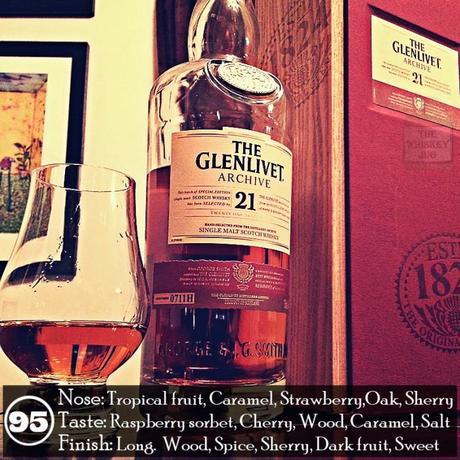 Brass tacks, The Glenlivet Archive 21 is among my favorite, readily accessible, single malt scotches and everything about it makes me feel giddy inside. There is a subtle poetry to this whisky. The balance, the taste, the smell, the feel. Everything about it makes me happy I have taste buds and a working olfactory system. I'm dead serious when I say this is one of those must have drams in life.
The liquid inside of this bottle is a mix of various casks in the Glenlivet warehouse that range anywhere from 21 to 40 years old. These casks can include ex-bourbon, sherry (obvious from the color and the flavor), first and second fill American and European Oak, French Limousin Oak and whatever else they've got tucked away. The goal in taking this Frankenstein route is to create a deep and rich whisky that is brimming with complex aromas and flavors. This also means that it will change a bit as the years go on as it's all based on what they have available, making each batch unique.
Glenlivet Archive 21 Review
Batch: 0711H
ABV: 43%
Price:$160
EYE
Caramel with hints of red
NOSE
A warm tropical fruit accompanied by caramel, strawberries, oak and sherry lift effortlessly out of the glass and bring with them subtle notes of malt and cocoa that reminds me of malted milk balls like Whoppers. A bit of melon and a sweet syrupy quality that reminds of Tiger's Blood sno-cones. Baking spices and hints of sweet tobacco jump in and out adding a savory and earthy dimension to an already complex aroma.
TASTE
There is an immediate rush of flavor that makes me think of raspberry sorbet, but it's brief and quickly replaced by cherry heavy dark fruit, wood, salted caramel and sherry. Hanging out underneath are notes of sweet malt, iodine, mint and a delicate touch of smoky char all sitting on a carpet of spice.
BALANCE, BODY & FEEL
Expertly balanced with a rich full body and a velvety almost oily feel. This whisky was made for sipping.
FINISH
Long, rich and filled with wood, spice, sherry, a meaty dark fruit and complex dessert notes like caramel and sweet cream.
OVERALL
It's an absolute pleasure. The warm and velvety, bordering on oily, texture and deep rich flavors create a robust and attention grabbing flavor profile. The complex nose filled with sweet aromas punctuated by savory spikes make this as much a pleasure to sniff as it is to drink; a perfect companion for the complex spice notes and earthy undertones that ride beneath the intensely flavorful palate. To put it into 6 words: It's one hell of a dram.
SCORE: 95/100