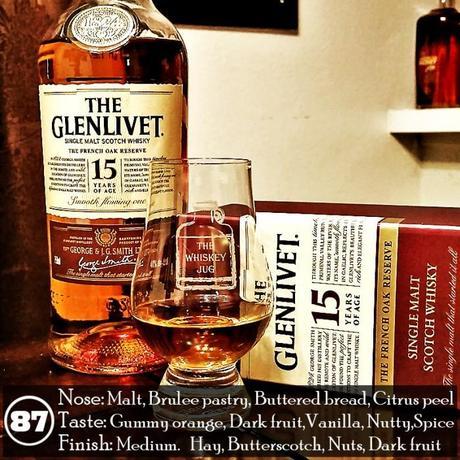 Glenlivet 15 you are the last and final Glenlivet in the core range I've needed to try and now here you are… here you are. The 12 is ok (pre 90's versions though are borderline amazing). The 18 is great and enjoyed my last bottle of it to the very last drop. The Nadurra is a brooding fruity monster of a whisky. And finally the 21, which is the crown jewel of the core Glenlivet line and sits among my favorite whiskies.
It's kind of funny how long it's taken me to get around to the 15. It's not incredibly expensive and it's not hard to find, but somehow it has always seemed to get pushed aside every single time I went to the bottle shop or dismissed at the bar. But that's not actually important, what is important is how this whisky tastes and I think we should get into that right… now!
Glenlivet 15 years Review
Distiller: Glenlivet
Age: 15 years
ABV: 40%
Price: $60
EYE
Orangish caramel
NOSE
Malty brûléed pastry, buttered bread and citrus peel combine in interesting ways with nutty and fruity notes. A sherry like sweetness, spiced orange candy and a light sweet cream come through as hints.
PALATE
Jelly Belly Gummy Orange Slices, dark fruitiness, vanilla and nutty tones take up most of the flavor, but do allow for light notes of cinnamon heavy spice, hay like maltiness and smarties to come through.
FINISH
Hay, butterscotch, nuts, dark fruity gummies, nuts, wood and ash draw the experience to close on a medium fade.
BALANCE, BODY & FEEL
Balance isn't perfect, but nothing is dominating the dram. Medium body with a smooth easy texture.
OVERALL
Glenlivet 15 years (French Oak reserve) is tasty. I enjoy the sweet mildly fruity nose that carries some darker undertones as well as the sweet fruity, nutty, spicy palate; it's not a bad little dram. If you haven't had it I'd recommend trying it next time you get the chance and at $60 it's not a terrible deal. When it comes to money and taste the Glenlivet 15 is the best value in their core line up because even though I do like the 18 more, I'm not sure I like it $30+ more.
SCORE: 87/100