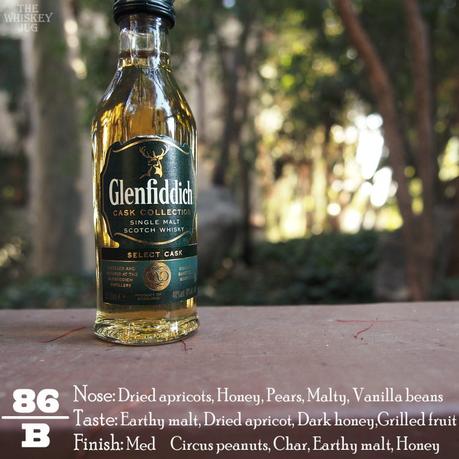 Glenfiddich Select Cask hails from one of Glenfiddich's four solera vats. If you're not familiar with a solera it's a way of making an evolving whisky that always retains some of the character of the previous release. They empty 1/2 of the solera for bottling and then fill it back up with mature barrels, let it mellow and marry for a while and then start the process all over again.
In Glenfiddich's Words: Glenfiddich Select Cask
"With elegant layers of sweetness, spice and hints of citrus, Glenfiddich Select is a deliciously smooth expression made from casks married using our unique Solera vat process to create a single malt of unrivalled quality and consistency.

Each cask is hand-selected by our Malt Master, Brian Kinsman, and chosen for its unique taste profile. Individual casks are then married in our Solera Vat, a unique process where the flavours from each cask interact with each other to create a uniquely smooth and refined single malt.

A beautifully soft, sweet single malt, our Select expression combines the refined taste of oak with the signature orchard fruit of the Glenfiddich collection."
And with that I leave you to the Glenfiddich Select Cask review below!
Glenfiddich Select Cask Info
Region: Speyside, Scotland
Distiller: Glenfiddich
Mashbill: 100% Malted Barley
Cask: ex-Bourbon, Ex-Californian Red Wine & European Oak
Age: NAS
ABV: 40%
Price: $50 (Travel Retail)
Glenfiddich Select Cask Review
EYE
Dark gold
NOSE
Dried apricots, honey, pears, malty sweetness, vanilla beans, yellow cake and a light bits of nutmeg and Smarties.
PALATE
Earthy malt, dried apricot, dark honey, grilled fruit, vanilla cake and light touches of cocoa, circus peanuts and char.
FINISH
Medium finish that's a muddling of Circus Peanuts, char, earthy malt, honey, fruit and menthol.
BALANCE, BODY & FEEL
Ok balance, medium body and a feel that's a few steps above watery in its delivery
OVERALL
Glenfiddich Select Cask is remarkably good given its neutered delivery. The honied aroma, palate and finish are quite nice and I find myself thinking a full bottle of this might be nice to have around the house; especially for when I have company over. I find myself enjoying it, but it's not something I'd drink regularly. From time to time sure, but this would make an excellent game-day malt for sharing and sipping with friends.
In their original press release they say the Glenfiddich Select Cask utilizes some red wine casks, but that's a character I definitely don't get here. Maybe it's just used to round the whisky out and soften it up a bit, but it's not a well defined character. It's a decent whisky and at $50 it's not a bad price. If it wasn't a travel retail only bottle I'd be considering one.
SCORE: 86/100 (B+)