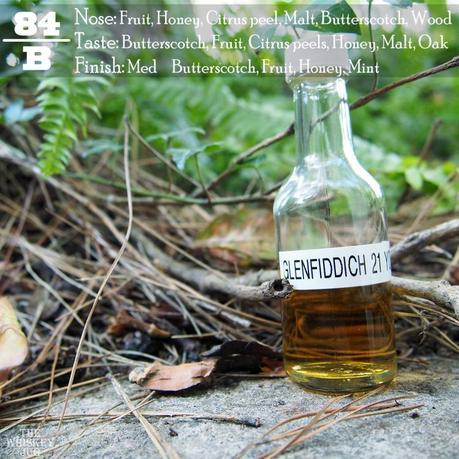 The Glenfiddich 21 pisses me off, it's something that should be an elegant celebration of the distillery, but instead it's a let down. Their treatment of their wonderful spirit is nothing short of abuse and a rip-off to the consumer. I'm not sorry for being so harsh because, seriously, when you're charging nearly $200 for a product you should be delivering something monumental to your customers. Them and their wallets deserve that respect.
In Glenfiddich's Words: Glenfiddich 21
"Patiently matured for 21 years on‐site at the distillery, it is an exquisite, traditional Speyside whisky, rich and ripe with our Glenfiddich signature notes. But rather than bottle it, as other distillers would, our Malt Master, Brian Kinsman, hand picks selected barrels and adds a sublime finishing touch.

By finishing our 21 Year Old in Caribbean rum casks it awakens the liquid, rousing it with extra exotic notes of ginger, fig, lime and banana and a vibrant spicy toffee warmth, elevating it from something great to something extraordinary."
I obviously don't agree that this is something extraordinary, but I do think it could be if they treated it right. For the details of my obviously strong opinion of this whisky check out the Glenfiddich 21 review below.
Glenfiddich 21 Info
Region: Speyside, Scotland
Distiller: Glenfiddich
Mashbill: 100% Malted Barley
Cask: ex-Bourbon & ex-Caribbean Rum
Age: 21 Years
ABV: 40%
Price: $180*
Glenfiddich 21 Review
EYE
Light amber
NOSE
Fruit, honey, citrus peel, malt, butterscotch and a light bit of wood and brown sugar. It's an ok aroma, but nothing exiting.
PALATE
Butterscotch, fruit, citrus peels, honey, malt and misting of wood and spice. Like the aroma it's nothing to write home about.
FINISH
Med-short, butterscotch, fruit, honey, mint
BALANCE, BODY & FEEL
Ok balance, thin body and a weak watery feel.
OVERALL
I don't get any of the supposed elegance of the Glenfiddich 21. To me it comes across as rigid and neutered. From aroma to finish it's watery and understated in a way that makes it boring. It would make an impressive gift, but that's about it.
Seriously Glenfiddich, if you're charging $180 SRP ($200+ in most shops) there's no good excuse for delivering this as a weak-ass chill-filtered 40% whisky. It's 21 years old, put all of its elegance and beauty on display, don't neuter it! Even 46% and NCF would make a difference as it would retain more of its top notes. Though to my mind anything price over $150 should be least 50% unless it's under 50% due to evaporation.
For my tastes Glenfiddich really hits its prime between 14-18 years and in the rare occasions you can get it at cask strength in that age range it's stunning. I've harped on the 40% thing a lot lately while tasting through a bunch of Glenfiddich, but that's because I know what Glenfiddich can taste like when it's not neutered. Expressions like this Glenfiddich 21 just don't do this lovely spirit justice.
SCORE: 84/100 (B)
*Disclosure: This sample of Glenfiddich 21 was graciously sent to me by the company for the purposes of this review. The views, opinions, and tasting notes are 100% my own.