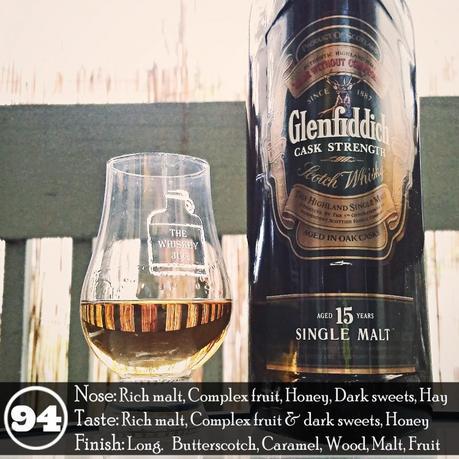 Glenfiddich 15 Cask Strength is the Glenfiddich I want to drink everyday. I want cases of this stuff, but unfortunately it's not made any more. I'm not exactly sure when it stopped being produced, but looking through a couple of forums it seems like this bottling went from being available in retail in the mid / late 90's, to duty free and distillery only, to distillery only and then was replaced by the current distillery exclusive which is a cask strength version of the 15 year Solara.
So what makes this so spectacular? Simplicity. It's not peated, it's not heavily sherried, it's not aged in 4 different barrels, it's not aged on a boat or anything else. It's simply amazing whisky created by Glenfiddich and shows what the distillery is capable of putting out. It's definitely among the best straightforward single malts I've ever had.
Glenfiddich 15 Cask Strength Info
Region: Speyside, Scotland
Distiller: Glenfiddich
Mashbill: 100% Malted Barley
Age: 15 years
ABV: 51%
Cask Strength | Non-Chill Filtered | Natural Color
Price: $200
Glenfiddich 15 Cask Strength Review
EYE
Light copper
NOSE
Rich malty sweetness followed by complex tropical and orchard fruit, honey, a suite of dark sweets, hay and a sherry-like sweetness. It's a mind-blowlingly good aroma and a bit of water sends it exploding out of the glass as everything unfolds and becomes richer.
PALATE
Rich malty sweetness leads, accompanied by a complex mix of dark sweets and fruit. Lovely notes of honey, toasted nuts, citrus rind and vanilla give it life and motion as it moves across the palate. Water has the same effect on the palate as the nose and everything comes out deeper and richer than before.
FINISH
Butterscotch, caramel, wood, malt, fruit, char and a rich sweetness slowly fade.
BALANCE, BODY & FEEL
Excellent balace, rich full body and a smooth heavy mouthfeel.
OVERALL
Glenfiddich 15 Cask Strength is magnificent. I want cases of this stuff in my collection so I can be sipping it every weekend. From nose to finish it's rich, bold, complex and I can't find much to complain about. When whisky is this good it's more about nit picking minor "flaws" than finding what works. Here those nit picky notes amount to me feeling like a bit more dimension to the nose and palate would've been great, but my only complaint is that I have less than 20 ounces of this left.
SCORE: 94/100