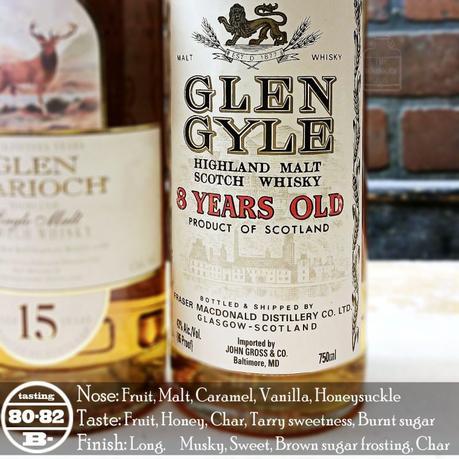 Glen Gyle 8 Years is a vatted (blended) malt whisky from the Loch Lomond Distillery Co. that used to be easily found, but has dwindled over the years. This bottling I believe comes from the 90s and has no connection with the Kilkerran whisky coming from the Glengyle distillery in Campbeltown. Confused? Hopefully this will clear it up a bit.
There was a distillery built by the Mitchells (built Springbank) in the 1800s called Glengyle that existed in the Campbeltown region until 1925. Then in 2002 the Springbank folks decided to revive the distillery by restoring the buildings and putting in new equipment. However, sometime between 1925 and 2002 the Loch Lomond Distillery Co. put out this whisky, Glen Gyle 8 years, and wouldn't sell the name to Springbank so they couldn't use it on bottle of whisky coming from the Glengyle distillery. This is why whisky from the Glengyle distillery is called Kilkerran today.
Glen Gyle 8 Years Info
Region: Highlands, Scotland
Distiller: Various
Blender: Loch Lomond Distillery Co.
Mashbill: 100% Malted Barley
Cask: ex-Bourbon
Age: 8 years
ABV: 43%
Price: NA – "Dusty"
Glen Gyle 8 Years Review
EYE
Light caramel
NOSE
The nose on this is great! Fruit, malt, carmel, vanilla, honeysuckle, butterscotch, buttered popcorn Jellybelly's and a sticky dark sweet undertone. Really enjoyed sniffing this one.
PALATE
Argh, it fall apart on the palate. There is some nice fruit, honey and char notes, but after a second a tarry dark sweet character overtakes the whole thing and what's left are light notes of burnt sugar and wood.
FINISH
Long and musky sweet with hints of brown sugar frosting and charred wood.
BALANCE, BODY & FEEL
The dark funk knocks it a bit off balance. Medium body and a hot oily texture. Weird combo.
OVERALL
I've had better and I've had worse, but still this old expression of Glen Gyle 8 Years was fun to try. It's not something I'd flip out over seeing it gathering dust on the shelf or go out of my way to find, but if I walked into a shop and it was sitting at a reasonable price I'd pick it up. It's always fun to have these older bottles around for taste tests or reference points.
SCORE: 80-82/100 (B-, not consumed at home)