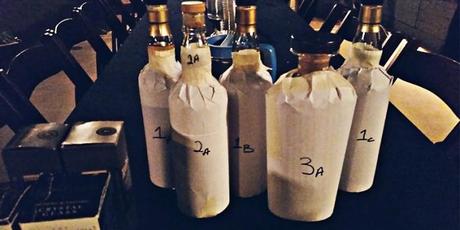 Recently I was was lucky enough to get asked back to another Malt Nuts meeting and like the Malt Nuts Talisker meeting it was an incredible night of whisky, food and great conversation. We were even lucky enough to have Jason from Single Cask Nation swing by and chat about what they're up to and he was kind enough to bring us a taste of one of the SCN Glen Elgin bottlings.
If Glen Elgin doesn't sound too familiar to you that's because they don't release a distillery bottling here in the USA and in Europe they only put out a 12yr with most of their whisky going in to the White Horse blend. For the most part, the only way to get ahold of Glen Elgin is through NDPs like Signatory, Single Cask Nation, Gordon & MacPhail, etc. The distillery itself is situated in the Speyside region and has been around since 1898. They're also one of the few distilleries still using worm tubes to cool their fresh distillate (Craigellachie being another).
Like the Talisker meeting this Glen Elgin meeting was a semi-blind tasting. We all knew we were tasting Glen Elgin, but as for how old, who bottled it. etc. we had no idea. Even the SCN bottle was wrapped up and thrown in so we didn't know any more details about it other than it was a Glen Elgin. Though like the Tali event there was a theme to each round of which there were 4 Glen Elgin rounds + a bonus round and since the fun of a blind tasting is lost on a blog post I've laid it out below.
All bottled at 46%
Signatory Vintage
Signatory 1991 Refill Sherry Butts
SMWS vs SCN
Bonus Malts
Glen Elgin 46%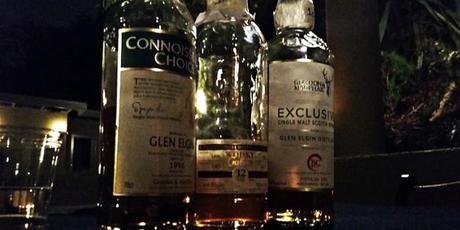 1A – Glen Elgin G&M Connoisseurs Choice 46% (B+)
Nose: Light bright fruit, warm malt, some dark sweet notes like caramel and butterscotch, citrus and a soda water like minerality.
Palate: Fruit gets more tropical in nature and blends in with notes of caramel, baking spices and red licorice.
Finish: Watery caramel, fruit, wood and earthy ash on a long fade.
Overall: Tasty malt with a mellow yet flavorful character. This one was my favorite of the first batch (it also ended up being the bottle I donated to the meeting so I felt pretty happy about that).
1B – Glen Elgin Whisky Galore 12 years 46% (B-)
Nose: Dark, earthy, fruity malt with notes of cinnamon and nutmeg.
Palate: Fruit is tropical almost bubble gum like and gets paired with some darker earthy almost sulfuric notes. Also a bit of vanilla bean and some malty sweetness.
Finish: Malty, earthy, spicy and fruit on a medium fade.
Overall: Didn't really move me, it was just ok. The overall darkness of the dram overtook the fruity side leaving it feeling a bit off kilter.
1C – Glen Elgin Gordon & MacPhail Exclusive 46% (B)
Nose: Spice, malt and a dark overripe fruitiness permeates, but doesn't overwhelm and is tempered by honey and vanilla.
Palate: Fruity! Orchard fruit, tropical fruit, cherries and dried strawberries mixed with some hay, butterscotch and malt.
Finish: Fruit, malt, ash and mint with a medium fade.
Overall: Runs a little hot but all-in-all it has a nice warm feel to it and ended up enjoying this one.
Glen Elgin Signatory Vintage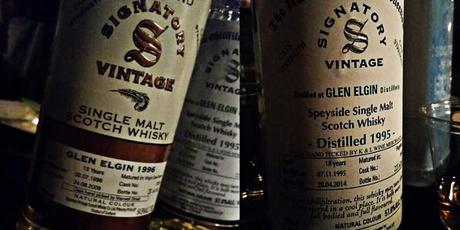 2A – Glen Elgin Signatory Vintage – Virgin Oak 54.8% (B+)
Nose: Alcohol pops up first and is followed by warm notes of fruit, hay, spice, vanilla and honey. Really nice once the alcohol blows off a bit.
Palate: Fruity with notes of graham crackers, spice, caramel and vanilla.
Finish: Fruity and woody speckled with notes of dark sweets. Medium length.
Overall: Really enjoyed the spicy sweet character this one has and the way it blends with the sweet malty notes.
2B – Glen Elgin Signatory Vintage – Sherry Hogshead 57% (B+)
Nose: Vanilla comes in swinging here with supporting notes of tropical fruit, gummy bears, sweetness and floral notes.
Palate: Fruit takes the lead here with notes of graham cracker pie crust, baking spices, a rich sweetness and mint coming in behind.
Finish: Canada Mints, fruit and a dark maltiness.
Overall: Sweet, rich and flavorful with some surpassing notes popping in and out. I liked this one a bit more than the Signatory Virgin Oak. Though I was surprised to find out it was a sherry hogshead because I didn't find any sherry like notes. Could have been a 3rd or higher fill, but it didn't say.
Glen Elgin Signatory 1991 Refill Sherry Butts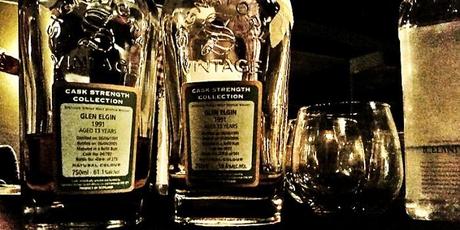 Ok so this is the one point in the tasting where we all knew exactly what we were going to be tasting. This bottle isn't exactly inconspicuous.
3A – Glen Elgin Signatory 1991 Refill Sherry Butt 13 years 61.1% (B-)
Nose: Buttery orchard fruit, butterscotch, tropical fruit and some sweet pastry like notes.
Palate: Fruity and biscuity with notes of hay, caramel, toffee and butter.
Finish: Caramel, fruit, malt and ash on a long finish.
Overall: Hot hot hot. Even with some water it stayed hot. It had some nice fruity aspects, but overall it was closed off, light and hot.
3B – Glen Elgin Signatory 1991 Refill Sherry Butt 15 years 59.6% (B)
Nose: Butterscotch, fruit, light smoke, char and a mild nuttiness.
Palate: Buttery fruit, hay, malt and some cinnamon heavy spice.
Finish: Canada Mints, juicy fruit gum and some malty sweetness on a long fade.
Overall: It's ok. I like it more than the other one, but I'm not totally sold on it. Though that's the second time I got that pink mint flavor and it's really an interesting note to get. Takes me back to my childhood.
Glen Elgin Single Malt Whisky Society VS. Single Cask Nation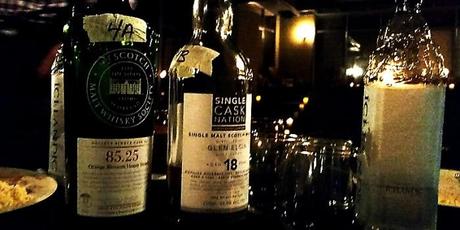 Like I said, we didn't know the details of what we were tasting going into it, but seeing the bottle shape was a giveaway about which we were tasting when. That said these are the two bottles I poured seconds of after the tasting and continued going back and forth between them. Really enjoyed both.
4A – Glen Elgin Single Malt Whisky Society 13 years 85.25 56.3% (B+)
Nose: Rich warm fruit, brûléed pastry, slightly nutty, toffee and buttered popcorn with some soda water like minerality on the tail end of the sniff.
Palate: Fruity with notes of butterscotch, ash, spice and hazelnuts.
Finish: Nutty with notes of dark ashy fruit and caramel. Long.
Overall: Rich and tasty it had some great characteristics to it but I liked the SCN bottle a bit more.
4B – Glen Elgin Single Cask Nation 18 years 54.9% (B+)
Nose: Tropical fruit, caramel, hazelnuts, citrus peel and dark fruit notes.
Palate: Solid fruity and nutty character with notes of cherry, wood and mint.
Finish: Fruit, butterscotch, sherry sweetness, strawberry taffy and ash.
Overall: This would be a pleasant daily drinker and I really wanted to take this bottle home with me. I flirted with giving it an A- but I needed just a little bit more complexity. Think of this B+ as an 89.99999.
Bonus Malts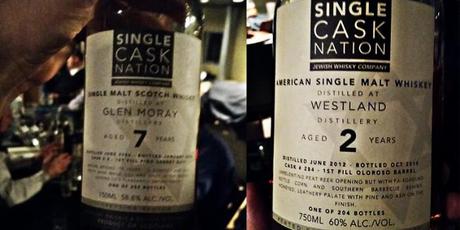 These were brought by Jason to taste and test and I felt incredibly lucky to try them. I don't know if you'll be reading this Jason, but if you do THANKS… again.
Glen Moray 7 years Fino Cask 58.8% (B+)
Nose: Nutty, sherry, cherries and cream, sweet dark fruit. Lots of great dessert notes happening here
Palate: Cherries, nutty, nougat, dark fruit, brown sugar and cinnamon heavy spice.
Finish: Dry! Holy cow is this a dry finish, but it's got some nice flavors of dark fruit, fruit leather and ribbon candy on a long fade.
Overall: It's aromatic, it's flavorful, it has a nice finish, but holy crap is it sweet. I need something a bit darker, earthier or just less dessert like in there to help balance it out. Give me that and this would be in the As (90+).
Westland American Single Malt XX% (B)
Nose: Fruit, nuts, light spice, graham and a bit of dark earthiness.
Palate: Fruity, nutty, hay and a graham with some spirity and medicinal undertones.
Finish: Fruit, nuts, malt and light medicinal tones on a short fade
Overall: I liked it. I can't believe it's only 2 years old!
All-in-all it was another fantastic evening with the Malt Nuts and it was an incredible way to get to know Glen Elgin, a distillery I've had no exposure to until now. Big thanks to Barry for setting it up, Jason for coming by and letting me tag along!