This is a requested post. I was sent some images and an editorial that facilitated my today's post. No compensation was provided whatsoever.
A collaboration between four friends 

enthusiastic, WARBY PARKER was conceived as an alternative to the overpriced and boring eyewear available today. Their objective was to provide higher-quality, better-looking prescription and non-prescription eyewear at a fraction of price unlike the larger boutiques that then controlled this industry and the prices. Warby Parker has a come along way since then and now enjoys a promising clientele all around USA. Want to know more about them...Head here ?  
What interests me most as a consumer is their 5 DAY, 5 GLASSES , 100% FREE punchline . To get a better understanding of this, may I request you to follow the link   HERE.
Recently Warby Parker launched  the Spectrum Sun collection. Cheery shapes and beautiful spring colors come through in this collection and the icing on the cake.... all the nine glasses comprising this springy collection are priced at $95 . 
Personally I was smitten by the HALL cherry blossom so I thought what if I don't have the real glasses to spin around, at least I could get a virtual flavor of them. This is how I would I have styled them had I been the proud owner of these beauties.....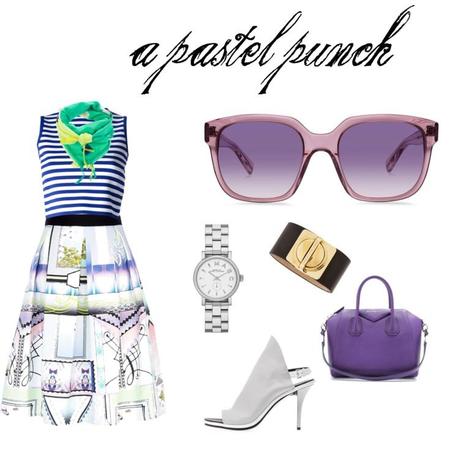 SHOP HERE :
More Marc by Marc Jacobs...

Hope you enjoyed reading my first requested/advertisement  post for a renowned brand like Warby Parker. 
Thanks for your sweet time